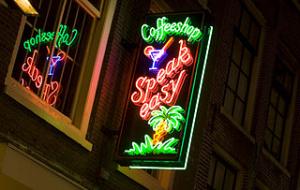 After more than 30 years, the Dutch are finally going to do something about "the back door problem."
A federal bill to protect the 2nd Amendment rights of medical marijuana patients is filed, North Dakota backs away from messing with those rights, no medical marijuana for Tennessee this year, Texas bills get a public hearing, and more.
A pervy, predatory probation officer goes to prison, a half-dozen Maryland prison guards go down in a racketeering case, and more.
Medical marijuana and guns rights are in the news today, the Dutch embark on a pilot program of licensed legal marijuana grows, there is no medical marijuana for Tennessee this year, and more.
Some 20 senators sign on to a bill to solve legal marijuana's banking problem, a Maine jail appeals a federal court ruling that it must provide Suboxone to a prisoner, and more.
A set of Michigan bills would do some post-legalization cleanup, a decriminalization bill advances in Missouri, an Oklahoma bill protecting patient rights is signed by the governor, drug crop growers clash with authorities in Mexico and Peru, and more.
The Denver city council is trying to make it easier for marijuana social consumption businesses to open, a Colorado drug defelonization bill advances, a Democratic presidential contender calls for opioid decriminalization, and more.
Decriminalization bills are alive in Alabama and North Carolina, the Iowa Senate approves hemp, the FDA eases opioid prescribing rules, Ciudad Juarez sees a bloody weekend, and more.
Permission to Reprint:
This issue of Drug War Chronicle is licensed under a modified
Creative Commons Attribution license
. Articles of a purely educational nature in Drug War Chronicle appear courtesy of DRCNet Foundation, unless otherwise noted.