Medical marijuana and guns rights are in the news today, the Dutch embark on a pilot program of licensed legal marijuana grows, there is no medical marijuana for Tennessee this year, and more.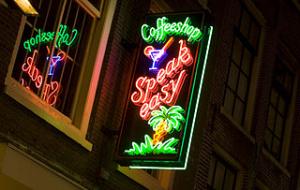 Marijuana Policy
California Bill to Block Home Marijuana Deliveries Killed. A bill that would have allowed localities to ban home deliveries of marijuana has died on a tie vote in the Assembly Business and Professions Committee. AB 1530 stalled amid concerns it would further hamper the state's struggling legal marijuana industry. Bill sponsor Assemblyman Ken Cooley (D-Cordova) said he will decide later whether to try again next year.
Wisconsin Poll Has Strong Support for Legalization. A new Marquette University Law School poll has support for marijuana legalization at 59%. Support for medical marijuana was even higher at 83%. Gov. Tony Evers (D) has called for the legalization of medical marijuana and the decriminalization of up to 50 grams.
Medical Marijuana
Federal Bill Aims to Let Medical Marijuana Patients Keep Their Guns. Rep. Alex Mooney (R-WY) has filed a bill aimed at protecting the gun rights of medical marijuana patients. The Second Amendment Protection Act would grant an exemption from the federal law that says people cannot purchase firearms if they're "unlawful user[s] or addicted to any controlled substance" for state-legal medical marijuana patients.
North Dakota Lawmakers Back Away from Proposal for Database to Check Patents' Eligibility for Concealed Weapons Licenses. House lawmakers on Tuesday approved a measure, Senate Bill 2140, that would require the Department of Health to disclose medical marijuana patients' identities to the Bureau of Criminal Investigation "for the sole purpose" of determining whether they are eligible and in compliance with the state's concealed weapons law. But on Wednesday, Attorney General Wayne Stenehjem reminded lawmakers that changes to the voter-approved medical marijuana law required a two-thirds vote, not a mere majority, so lawmakers voted to send the bill back to the Natural Resources Committee, where its chairman said he will strip the gun language from the bill so it can pass.
Tennessee Medical Marijuana Bills Are Dead for This Year. State Sen. Steve Dickerson (R-Nashville), a doctor and leading proponent of medical marijuana in the legislature, announced Wednesday he was delaying all medical marijuana bills until next year. He said he was convinced the bill would fail, and decided it was better to delay the proposal than watch it fail in committee. "You can run a bill and have it defeated, or you can keep it alive," Dickerson said. "And practically speaking, we decided to keep it alive and not have a defeat for perception more than anything."
International
Dutch to Move Forward with Legal, Regulated Marijuana Production for Coffee Shops. The Dutch government released detailed plans Thursday for moving forward with regulated marijuana production to supply the country's famous coffee shops. The plan is to license 10 growers, each of which will grow at least 10 different strains. THC content will be clearly labeled. At least six and no more than 10 local authorities will take part in the trials, which will last four years. It will then be up to the next cabinet to decide whether to move forward with state-regulated marijuana production. The plan is being criticized by some local authorities and coffee shops as being too restrictive by requiring that all cannabis sold in participating coffee shops come from the licensed growers.