A set of Michigan bills would do some post-legalization cleanup, a decriminalization bill advances in Missouri, an Oklahoma bill protecting patient rights is signed by the governor, drug crop growers clash with authorities in Mexico and Peru, and more.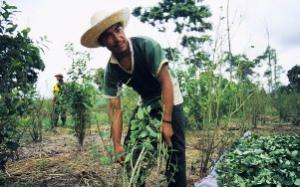 Marijuana Policy
Michigan Bills Would Cut Sentences for People Jailed for Possession. State Sen. Sylvia Santana (D-Detroit) has filed a package of bills that would reduce prison, parole, and probation sentences for people jailed for marijuana possession. SB 262 through SB 265 are now before the Senate Judiciary and Public Safety Committee. "After the passage of Proposal 1, it's time we rethink drug sentencing laws in Michigan, so let's start with marijuana offenses, since those are no longer considered crimes under current law," Santana said.
Missouri Decriminalization Bill Advances. The House Special Committee on Criminal Justice last Thursday unanimously approved HB 1095, which would decriminalize the possession of up to 10 grams of marijuana. The measure would also make possession of less than 35 grams from a felony to a Class D misdemeanor. The measure now heads for a House floor vote.
Oregon Social Consumption Bill Dies. A bill that would have allowed marijuana consumption lounges, SB 639, was among hundreds of bills that died in the legislature after failing to move out of committee by April 9. The bill's failure is a blow to the state's legal marijuana industry, which is faced with chronic oversupply.
Medical Marijuana
Oklahoma Governor Signs Patient Protection Bill. Gov. Kevin Stitt (R) has signed into law HB 2612, the Oklahoma Medical Marijuana and Patient Protection Act. The measure protects patients' rights to possess firearms under state law and allows the Oklahoma Medical Marijuana Authority to hire its own investigators to probe alleged violations. The law will go into effect 90 days after the legislature adjourns, which will be at the end of May.
Washington Senate Approves Allowing Medical Marijuana in School. The state Senate on Saturday overwhelmingly approved SB 5442, which would allow parents to administer medical marijuana to their children at school, on the school bus, and at after-school activities. The bill limits the kind of marijuana used to infused products and extracts.
International
Mexico Poppy Farmers Detain Soldiers in Eradication Protest. Residents of a rural town in Guerrero state said they detained 40 soldiers last week to demand they halt opium poppy eradication efforts. The farmers said they set up roadblocks to prevent soldiers from leaving the region and called on the state and federal governments to provide assistance to local farmers so they aren't forced to grow opium. The farmers said the state government had promised in November that their poppy crops would not be destroyed and alternative means of support would be provided, but neither happened.
Peru Clashes Over Coca Eradication Leave Two Farmers Dead. Two coca growers were killed in clashes with a large eradication team last Friday. The team, which consisted of 72 police officers and158 civilian eradicators, had arrived in the area near the Bolivian border to destroy illegal coca fields, but reported that they were attacked by people wielding machetes and sticks as they set up camp. But the mayor of the town of San Gaban said witnesses told him police fired indiscriminately. "They were shooting right and left. That's why we have this bloodshed," the mayor said.