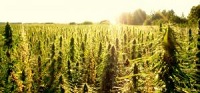 The good, the bad, and the ugly in the world of domestic drug policy this year.
It's expected to sail through the House and be signed into law by President Trump.
Marijuana's lanky, straight-laced country cousin is about to get legal.
Multi-drug combinations prove particularly deadly.
A Nebraska medical marijuana initiative campaign gets underway, New Jersey and Pennsylvania announce expansion plans, and more.
Congress has passed a bill to legalize hemp, the CDC issues a new report on overdose deaths, St. Vincent and the Grenadines legalizes medical marijuana, and more.
A national coalition of civil rights, labor, and civic groups calls for descheduling marijuana; New Jersey isn't quite there yet, France takes a step toward allowing medical marijuana, and more.
The governors of New Hampshire and New York have very different views on marijuana legalization, New Jersey doubles the number of dispensaries, a new report examines drug treatment for criminal offenders in Utah, and more.
The Senate is finally taking up the prison and sentencing reform bill, New Jersey's legalization push is stalled until next year, New Zealand is set to vote on legalizing marijuana in 2020, and more.
A major sentencing reform bill takes a major step toward becoming law, a New Mexico medical marijuana producer is suing the state over rules and fees, and more.
Getting caught driving high in Michigan is NOT a ticketable offense. You will go to jail and face either misdemeanor or felony charges.
Permission to Reprint:
This issue of Drug War Chronicle is licensed under a modified
Creative Commons Attribution license
. Articles of a purely educational nature in Drug War Chronicle appear courtesy of DRCNet Foundation, unless otherwise noted.