Decrim comes to the US Virgin Islands, Anchorage starts planning for pot, California starts looking toward 2016, it was a good year for hemp, the New Jersey Supreme Court rejects criminalizing a pregnant woman for using prescribed methadone, and more. Let's get to it: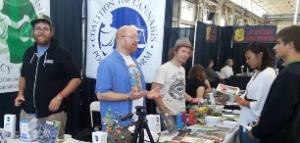 Marijuana Policy
US Virgin Islands Lawmakers Override Veto to Enact Decriminalization. Lawmakers voted Friday to override a line-item veto of a decriminalization provision in the territory's FY 2015 budget. That means the territory has now decriminalized the possession of up to an ounce of marijuana.
Anchorage Forms Committee to Handle Legalization. Last week, the city council shot down a plan to ban pot sales in the state's largest city. This week, it has formed a committee to handle local implementation of legalization. The first meeting is today. Click on the link for more details.
Oakland Meeting Next Month to Look at Lessons of Successful Legalization Campaigns. The California Coalition for Cannabis Policy Reform and its grassroots organizing arm, ReformCA, will be hosting a "debriefing" with leaders of the successful initiative campaigns in Alaska, Oregon, and Washington, DC, next month. The meeting is set for January 9 in Oakland. Click on the link for more details and to RSVP. Seating is limited.
Hemp
A Good Year for Hemp. The industry lobbying group Vote Hemp reports that, largely inspired by passage of American Agricultural Act's provision allowing for hemp research, 10 states legalized hemp production this year. They are Delaware, Hawaii, Illinois, Indiana, Missouri, Nevada, New York, Tennessee, and Utah. Two other states, Connecticut and New Hampshire, passed hemp study bills.
Harm Reduction
Drug Policy Alliance Issues New Guide for Tackling Drug Use at Music Events. The guide, Managing Drug Use at Your Event, is aimed at event producers and focused on improving the health and safety of festival attendees. It is designed to give event producers a harm reduction-based alternative to a police and enforcement-heavy approach. The guide is part of DPA's Music Fan campaign aimed at stimulating discussion about drug use in club and festival setting and promoting policy reforms to improve clubber health and safety.
Pregnancy
New Jersey Supreme Court Rejects Child Abuse Charge Against Pregnant Mom Over Prescribed Methadone Use. The court ruled unanimously Monday that a woman dependent on opioid pain relievers could not be charged with child abuse and neglect for using prescribed methadone during her pregnancy. Her healthy infant was treated for neonatal abstinence syndrome after birth, and the state Division of Child Protection and Permanency used that diagnosis as the basis for charging her with child abuse. The case is Division of Child Protection and Permanency v. Y.N.
International
Uruguay Has Registered 1,200 Marijuana Growers. The head of the National Drugs Board, Julio Calzada, said Monday that there are 1,200 registered marijuana growers. "It is encouraging to have 1,200 growers after three or four months since the law came into effect," Calzada told reporters. He added that about 500 cannabis clubs have registered. Each club can have up to 45 members and grow up to 99 plants.