Massachusetts lawmakers finally figured out their budget, so now maybe they can figure out how to implement the will of the voters on legal pot; the Supreme Court lets Wisconsin continue to enforce its "cocaine mom" law as the state appeals a lower court ruling it's unconstitutional; Colombian coca cultivation was way up last year, and more.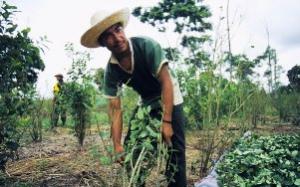 Marijuana Policy
Massachusetts Lawmakers Resume Talks on Implementing Legalization. A House-Senate conference committee was set for a closed door meeting Monday afternoon to restart negotiations over legislation that would implement the state's voter-approved marijuana legalization law. House and Senate negotiators are split over a number of issues, foremost among them taxation rates and whether localities can ban pot businesses without a popular vote.
Medical Marijuana
North Dakota Seeks Letters of Intent from Prospective Growers and Dispensaries. The Health Department last Friday asked prospective medical marijuana growers and dispensary operators to send in letters of intent to apply under the state's new medical marijuana law. The department said it wants a better idea of how many applications it will receive in coming months. Interested parties have until July 28 to send in their letters.
Drug Policy
US Supreme Court Lets Wisconsin "Cocaine Mom" Law Stay in Effect Pending Appeal. The Supreme Court last Friday issued an order lifting an injunction against Wisconsin's "cocaine mom" law imposed in April. The law allows state officials to detain pregnant women suspected of using drugs or alcohol. A federal district court judge ruled the law unconstitutionally vague and issued the injunction, but now the Supreme Court will allow the state to continue to use the law while it appeals the lower court ruling.
Sentencing
Report: Some Federal Prosecutors Ignored Obama Sentencing Recommendations. A report from the Justice Department's Office of the Inspector General released last Friday finds that at least 20 of the country's 94 federal prosecutorial districts did not follow Obama administration "Smart on Crime" sentencing recommendations aimed at reducing the number of mandatory minimum sentences for drug offenses. Still, the report noted, the initiative had an impact: Drug offenders sentenced without mandatory minimum sentences increased from 40% in 2014 to 54% in 2015.
International
UN Says Colombia Coca Cultivation Increased Dramatically Last Year. The UN Office on Drugs and Crime reports that the amount of land under coca cultivation jumped from 250,000 acres in 2015 to 363,000 acres last year, an increase of nearly 50%. The UNODC notes that most of the increase came in areas that had been under the control of the now demobilized FARC guerrillas. The Colombian military failed to take effective control of those areas, leaving a power vacuum filled by dissident guerrilla groups, rightist paramilitaries, and drug trafficking organizations.