It's official. Local initiatives that would make adult marijuana infractions the lowest law enforcement priority will be on the November ballot in three California cities -- Santa Barbara, Santa Cruz, and Santa Monica -- and the college town of Missoula, Montana. Missoula County officials certified that effort Thursday, and certifications of the California local elections came in over the summer.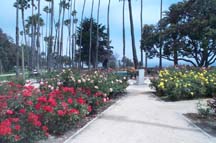 In Missoula,
Citizens for Responsible Crime Policy
used a grant from the
Marijuana Policy Project
to collect more than 20,000 signatures in three months, far more than are needed to make the ballot. Organizers there hope to build on the statewide medical marijuana victory in 2004.
In California, organizers in Santa Barbara, Santa Cruz, and Santa Monica also succeeded in gathering sufficient signatures to make the ballot. The three California local initiatives contain almost identical language and describe themselves similarly. As the Santa Monica web site notes, the initiative "makes marijuana offenses, where cannabis is intended for adult personal use, the lowest police priority" and "it frees up police resources to focus on violent and serious crime, instead of arresting and jailing nonviolent cannabis users."
The Santa Cruz initiative goes one step further by establishing an official city position in favor of marijuana legalization. "Voters in Santa Cruz are tired of the failed and immoral federal war on drugs," said Andrea Tischler, chair of Santa Cruz Citizens for Sensible Marijuana Policy. "Let's move to a more reasonable marijuana policy, and make sure that our police and courts are not wasting their time and resources arresting and prosecuting nonviolent marijuana offenders. By passing this initiative, Santa Cruz can be a beacon of light showing the way to a more sensible policy that is compatible with the values of the majority of citizens."
Lowest priority initiatives have already passed in Seattle and Oakland, which was the model and inspiration for this year's local California initiatives, as well as a handful of college towns around the country.