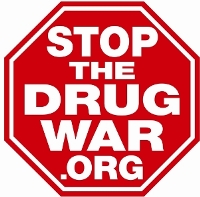 The mass arrests are at odds with a majority of the public that supports ending the drug war and treating drug use as a health issue.
It certainly looks that way. If so, then drug prohibition may prevent the economic embargo from having the desired impact.
The 2017 International Drug Policy Reform Conference is the major biannual gathering of drug policy reformers from around the world.
A new study regurgitates some old findings, but the point remains worth making.
If you live in Maine, that is.
It was a pretty quiet week on the medical marijuana front, with all the action taking place in the courts. A Florida farmer sues over grower licenses, a Montana dispensary operator sues over a local ban, and more.
Busy, busy: A long-time fugitive rogue Chicago cop gets cop, a DHS agent gets nailed for taking big bucks to help a Cali Cartel operative make an indictment go away, a Vermont cop plied a woman addict with drugs in order to get laid, and more.
The attorney general makes clear yet again that he doesn't like legal weed, a Kentucky court throws out a medical marijuana lawsuit, one of the nation's largest pharmacy chains is moving to tighten up on opioid prescriptions, Rodrigo Duterte is ready to kill his own kid for the sake of the drug war, and more.
Pennsylvania support for marijuanalegalization is strong and rising, Attorney General Sessions mixes drug and immigration policy, another federal court rules against Stingray, a second Massachusetts drug lab scandal could see thousands more cases dismissed, and more.
The FBI's latest Uniform Crime Report shows an increase in drug arrests last year, there's conflict in the coca fields in Colombia, British Columbia gets set to figure out how it's going to handle legal weed, and more.
Maine considers marijuana social clubs where you can't smoke, some Maryland criminal justice reforms passed last year will go into effect on Sunday, and more.
DEA Acting Administrator Chuck Rosenberg is outta here, Atlanta moves closer to pot decriminalization, San Francisco goes slow on legal pot sales, Florida's governor wants to restrict opioid prescriptions, and more.
Permission to Reprint:
This issue of Drug War Chronicle is licensed under a modified
Creative Commons Attribution license
. Articles of a purely educational nature in Drug War Chronicle appear courtesy of DRCNet Foundation, unless otherwise noted.