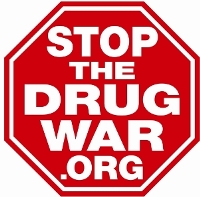 Bloody drug crackdowns, a drug-related AIDS epidemic given short shrift, marijuana legalization advances, and the UNGASS. Here's the good, bad, and the ugly in global drug policy for 2016.
Ever since we began counting six years ago, the annual drug war death toll has held fairly steady. It was 49 last year.
California's legal marijuana market is the biggest in the country, but that doesn't come close to accounting for all the weed it produces.
President Obama has two more weeks to grant more clemencies to prisoners. Please write and call the White House and ask him to take a responsible but blanket approach to freeing as many drug war prisoners as he can.
Arkansas and Florida start moving toward voter-approved medical marijuana systems, Massachusetts activists push for greater patient access, and more.
A newly elected West Virginia sheriff has a meth problem, a Kentucky drug detective develops a case of sticky fingers, and more.
Maine election losers seek to block the implementation of marijuana legalization, Mexico's Sinaloa Cartel is being overtaken by an upstart, and more.
Massachusetts marijuana shops get delayed by six months, Nevada personal pot legalization goes into effect next week, the national prison population continues a slow decline, and more.
Happy New Year! Legal marijuana sales hit a new record, Maine's legalization law will go into effect on January 30 (but no shops yet), Puerto Rico sees its first dispensaries, and more.
Vermont's governor pardons nearly 200 for marijuana possession offenses, Houston's incoming DA says won't seek jail time for marijuana possession, a British medical regulatory agency recognizes CBD as medicine, and more.
It's going to cost big bucks to get into the Arkansas medical marijuana growing business, a petition urging Donald Trump not to let the DEA ban kratom seeks signatures, there is asset forfeiture action in three states, and more.
Permission to Reprint:
This issue of Drug War Chronicle is licensed under a modified
Creative Commons Attribution license
. Articles of a purely educational nature in Drug War Chronicle appear courtesy of DRCNet Foundation, unless otherwise noted.