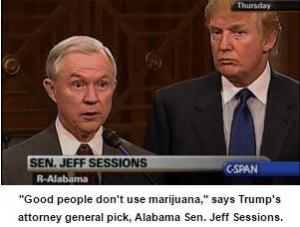 Dear reformer:
We need your help to save marijuana legalization, sentencing reform, police reform, everything.
Donald Trump's pick for Attorney General, Sen. Jeff Sessions, is one of the worst drug warriors in Congress. He almost single-handedly blocked mild sentencing reform bills that members of Congress from both parties supported. He opposes marijuana legalization and has even claimed that "good people don't use marijuana."
Please take one minute to write your US Senators in opposition to the Sessions nomination.
Sen. Sessions was rejected for a judgeship by a Republican-controlled Senate because of racism and false prosecutions he brought against civil rights activists. He is not a likely leader for continuing the much-needed work that has begun on police reform; in fact he's more likely to worsen the divisions in our country, not improve them.
Please help us stop the Sessions nomination now! Use the form below to write to your US Senators who are staying in office next year, or click here if that doesn't work. Scroll down for links to statements by some of our allies and media articles. Thank you for taking a stand.
Here are some links to statements our allies have issued on the Sessions nomination, and mainstream media articles as well as one of our own:
Looking for the easiest way to join the anti-drug war movement?
You've found it
!