Donald Trump has nominated a harsh drug warrior to head the Justice Department, Montanans will see a slew of bills aiming at making their medical marijuana system more workable (and at least one that wants to kill it), the Global Commission on Drugs called for drug decriminalization, and more.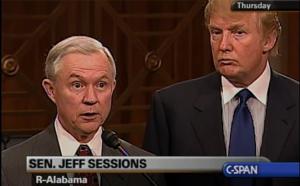 Marijuana
Trump's Pick of Jeff Sessions as AG Raises Fears in Marijuana Industry. President-elect Donald Trump (R) has nominated anti-marijuana Alabama Republican Sen. Jeff Sessions to head the Justice Department, setting off alarms in the marijuana industry. As attorney general, Sessions would oversee federal prosecutors and the DEA and could move to undo the Obama administration's policy of largely allowing the states to set their own course on pot policy.
Colorado Bureaucrats Nix On-Site Pot Consumption for Bars. Just a week after voters in Denver approved a social use initiative allowing restaurants and bars to seek permits to allow on-site consumption of marijuana, the Department of Public Health and Environment has announced that it will not allow liquor license-holders to obtain such permits. The department said using alcohol and marijuana together increases impairment. But proponents of the measure said alcohol establishments already rely on the judgment of servers and that the move would allow consumers to use marijuana products without having to go outside or hide behind closed doors.
Medical Marijuana
Arizona Dispensary Operator Eyes 2018 Expansion Initiative. The owners of the Wellness Center, an Apache Junction dispensary, are moving toward an initiative to expand the state's medical marijuana program. The move comes a week after a legalization initiative was narrowly defeated. The initiative would expand the list of qualifying conditions for marijuana and it would allow people who live more than a mile from a dispensary to grow their own. The current law bars people who live within 25 miles of a dispensary from growing their own.
After Initiative Victory, Medical Marijuana Bills Pile Up in Montana. Montanans voted last week to restore their state's medical marijuana system, which had been gutted by the Republican legislature in 2011, and now the legislature faces at least 10 bills designed either to make the system more workable or to try to thwart the will of the voters once again. It's going to be a busy session in Helena.
Heroin and Prescription Opioids
Kentucky Legislator Files Bill to Limit First-Time Opioid Prescribing. State Rep. Jeff Taylor (D-Hopkinsville) has prefiled a bill, BR 202, that would limit first-time adult prescriptions for non-chronic pain relief to a seven-day supply. The bill does include an exception that would allow a doctor to prescribe a longer supply if deemed medically necessary.
Kratom
Still Ten Days Left to Comment on Proposed Kratom Ban. Anyone who wants to commit on the DEA's plan to schedule kratom has until December 1 to do so. Click on the link for more information.
International
New Report Calls on UK to Legalize Marijuana. A new report from the Adam Smith Institute says that Great Britain's drug strategy "has failed in its core aims to prevent people from using drugs, manufacturing drugs, and to put a stop to the crime, corruption and death that is taking place on an industrial scale around the world," and calls on the government to legalize marijuana. The report is winning support from a cross-party parliamentary group that includes former deputy prime minister Nick Clegg.
Global Commission on Drugs Calls for Global Drug Decriminalization. In its annual report, the Global Commission on Drugs has called for an end to criminal and civil penalties for drug possession and more research into alternative regulatory models. The report comes months after the commission sharply criticized the United Nations' refusal to embrace more radical drug reforms at its UNGASS on Drugs last spring. Commission member Richard Branson called the UN's status quo approach "fatally flawed" at the time.