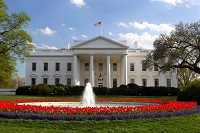 Banning new psychoactive substances such as Spice ("fake marijuana") or "bath salts" (a euphoric stimulant) isn't working that well. Is there another way?
The White House emphasizes public health in its new heroin initiative, but it's still relying on a heavy law enforcement component.
Ohio will be the next state to vote on marijuana legalization.
There's a union corruption scandal brewing in California, medical marijuana faces awkward transitions in Oregon and Washington, and more.
A DARE cop gets popped for ripping off the program, another jail guard goes down, a federal cop gets busted after his meth lab explodes, and more.
Ohio could be the next state to legalize marijuana, a union boss gets busted for taking bribes from dispensaries, "fake weed" is the subject of repression in Boston and New York state, Maine's welfare drug test program finds a single drug user, and more.
CBD cannabis oil goes on sale in England, a medical marijuana initiative is getting underway in Wyoming, the Justice Department will look into the police killing of teenager Zach Hammond in a small-time marijuana bust, and more.
It's big bucks for the Colorado marijuana industry (and the state's tax revenues), there's more initiative news, the White House takes on heroin, Peruvian coca farmers are feeling the pinch of eradication, and more.
A Wisconsin tribe may legalize marijuana, Ohio foes line up against the legalization initiative there, more Washington state dispensaries will be forced to close, a Utah SWAT reporting law shows what those squads are up to -- and it isn't hostage situations or "active shooters" -- Bolivia has reduced coca growing for another year in a row, more.
Another controversy over the ResponsibleOhio legalization initiative, medical marijuana could be coming to the northern prairie, a British parliamentary panel calls drug use a human right, and more.
Permission to Reprint:
This issue of Drug War Chronicle is licensed under a modified
Creative Commons Attribution license
. Articles of a purely educational nature in Drug War Chronicle appear courtesy of DRCNet Foundation, unless otherwise noted.