Ohio could be the next state to legalize marijuana, a union boss gets busted for taking bribes from dispensaries, "fake weed" is the subject of repression in Boston and New York state, Maine's welfare drug test program finds a single drug user, and more.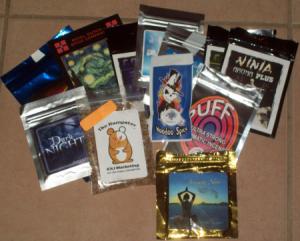 Marijuana Policy
Ohio Will Vote on Marijuana Legalization This November. Ohio Secretary of State Jon Husted announced Wednesday afternoon that the ResponsibleOhio marijuana legalization has qualified for the November ballot. Husted reported that the initiative campaign had collected 320,267 valid voter signatures; it needed 305,000 to qualify for the ballot. The initiative is controversial among marijuana legalization supporters because it creates a "monopoly" of ten allowed locations for commercial marijuana grows, which are owned by the people who funded the campaign. The initiative would also create a system of licensed marijuana processing facilities and retail outlets. And it would allow individual Ohioans to grow and possess small amounts of marijuana.
Medical Marijuana
Oakland Again Considers Licensing Medical Marijuana Farms. The city is in the process of crafting regulations and issuing licenses for medical marijuana grows, as well as other marijuana-related businesses. The city had proposed something similar in 2011, but retreated after federal prosecutors criticized the plan. But now the federal position has changed, and Oakland is ready to try again.
UFCW Official Accused of Taking Bribes from Dispensaries. Dan Rush, the executive director of the United Food and Commercial Workers (UFCW) cannabis division, has been charged in federal court with taking bribes or kickbacks to endorse potential dispensary operators. The feds accuse Rush of taking a $600,000 loan from one dispensary operator, and when he was unable to repay it, working with an attorney on "steps to provide various labor benefits to the (dispensary operator), including union support for opening dispensaries and reducing or eliminating pressure to unionize dispensary workers," the complaint says.
Oregon Governor Signs Medical Marijuana Task Force Bill. Gov. Kate Brown (D) has signed into law Senate Bill 844, which establishes a task force to research the medical and public health properties of marijuana. The task force will make a report with recommendations to the legislature on developing a medical marijuana industry that supplies patients with products that will meet their needs.
New Psychoactive Substances
New York Lawmakers Want Tougher Laws Against "Fake Marijuana." Last week, Gov. Andrew Cuomo (D) imposed an emergency ban on the sale of synthetic cannabinoids, but legislators want more. "Unfortunately, it is not doing the trick," said state Sen. Jeff Stein (D-Bronx). "We need a law on the books in Albany and we need a law right now. Synthetic marijuana is dangerous and poses a very real public health threat to New Yorkers, their families and children." He's supporting a bill that would make selling more than 25 grams of the stuff a felony punishable by up to five years in prison.
Boston City Council Bans "Fake Weed." The city council voted Wednesday to ban the sale of synthetic cannabinoids, commonly referred as "fake marijuana" or "synthetic marijuana." People caught selling the stuff will face a fine of $300, and police can now seize the drug.
Drug Testing
Maine Welfare Drug Testing Program Has Found Only One Drug User. The state began screening welfare applicants in April, but so far only one person has tested positive for drugs. The program screens all applicants for "reasonable suspicion" of drug use or if they have drug felonies, then subjects those it deems likely to be drug users to drug testing. But only 15 people have been referred to drug testing. Thirteen were blocked from receiving benefits because they didn't show up for either the initial screening or the drug test, and one tested positive. The results are in line with results from other states, whether drug screening and testing has also found very small numbers of drug users.
International
British Pot Farm Raids Decline. The number of police raids on commercial marijuana grows dropped by more than 17% last year. Observers cited law enforcement budget cuts and other factors. "Recent budget cuts appear to be reducing the amount of proactive policing that's going on," said Matthew Atha of the Independent Drug Monitoring Unit. "One of the main methods of detecting cannabis growers is police helicopters with infrared cameras and they cost a lot of money to keep in the air." This year, some British police forces have said they were going to deprioritize marijuana enforcement, but that wouldn't explain the decline last year.