(P.S. If you can't do anything else for the day of action, do this.)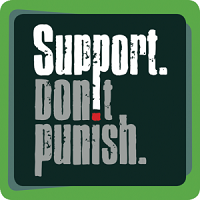 Please support tomorrow's global day of action -- "Support. Don't Punish." -- with social media, by taking a photo for the global Photo Project, or by attending an event, especially our demonstration here in Washington, DC!
Delaware becomes the 20th state to have either decriminalized or just plain legalized marijuana possession.
Massachusetts finally sees its first dispensary, the White House removes a barrier to marijuana research (although others remain), a Delaware kids' CBD cannabis oil becomes law, California stays busy, and more.
Two southern sheriff's deputies and a New England jail guard make the dishonor roll this week.
ProCon.org is a series of in-depth web sites presenting information and views from on current issues, several with relevance to drug policy. The Chronicle is currently running a series of info items from ProCon.org -- this one from DrinkingAge.procon.org -- and we encourage you to check it out.
This message is from our June sponsor, the Cannabis Industry Association, which is holding The Cannabis Business Summit & Expo 2015 from June 29-July 1 in Denver. Discounts are available for StoptheDrugWar.org readers!
You can dialogue with "Orange Is the New Black" author Piper Kerman, in a "telephone town hall meeting" taking place the afternoon of Monday June 29th.
We're heavy on the marijuana news today, but there's also good news from Congress on needle exchange, and Peru's Shining Path wins a second bad-news designation from the US government.
The marijuana reform bandwagon rolls through Delaware, federal bills on opiates and racial profiling get filed, the Supreme Court issues an interesting decision on synthetic drug sales, and more.
Ohio's political establishment gears up to block a controversial legalization initiative, the Dalai Lama supports medical marijuana, the Obama administration removes a barrier to marijuana research, Louisiana's governor rejects clemency for a man doing 13 years for two joints, and more.
Activists and doctors agree on policy toward pregnancy and marijuana use, the Maine legislature punts on legalization, a California bill to protect patients from discrimination in access to organ transplants passes the legislature, and more.
Ohio politicians move to undercut a marijuana legalization initiative, South Florida heads toward marijuana decriminalization, Delaware's governor signs a kids' CBD cannabis oil bill, Louisiana's governor signs an overdose prevention bill, federal lawmakers file an overdose prevention bill, and more.
Permission to Reprint:
This issue of Drug War Chronicle is licensed under a modified
Creative Commons Attribution license
. Articles of a purely educational nature in Drug War Chronicle appear courtesy of DRCNet Foundation, unless otherwise noted.