Ohio politicians move to undercut a marijuana legalization initiative, South Florida heads toward marijuana decriminalization, Delaware's governor signs a kids' CBD cannabis oil bill, Louisiana's governor signs an overdose prevention bill, federal lawmakers file an overdose prevention bill, and more.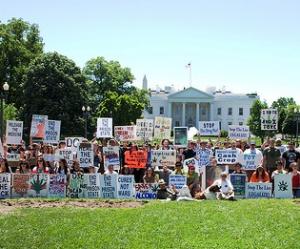 Marijuana Policy
Ohio House Panel Approves Measure That Could Block Legalization Initiative. A House committee Tuesday approved a resolution that could block a marijuana legalization initiative that appears to be poised to make the ballot. If approved by the legislature, the resolution would place an initiative on the November ballot that would bar amending the constitution through ballot measures that provide direct economic benefits to a few people or create monopolies. That is precisely the model adapted by ResponsibleOhio, whose initiative would allow only 10 commercial grows linked to investors in the campaign. Legal questions that could be tested if both initiatives are approved by voters are whether the ResponsibleOhio initiative will be invalidated if the amendment reform resolution gets more votes; whether it will be invalidated if amendment reform passes but with fewer votes; or whether the legalization provisions might be "severable" under Ohio law, and take effect, with only the monopoly provisions being invalidated.
Florida's Palm Beach County to Explore Relaxing Pot Penalties. Palm Beach County officials Tuesday night agreed to explore decriminalizing the possession of small amounts of marijuana. Officials cited a clogged court system and the problems that arise for people after a marijuana arrest. Neighboring Miami-Dade County officials are pondering a similar move, and so is nearby Broward County.
DC Smoke-In Will Celebrate 45th Anniversary July 4. The 45th annual DC Smoke-In is set for the 4th of July, and organizers are calling on all smoke-in alumni to return to DC for the rally, march, and concert. You might be able to legally possess a joint in the nation's capital, but federal prohibition still obtains. Click on the link for event details and more.
Medical Marijuana
Delaware Governor Signs CBD Cannabis Oil for Kids Bill Into Law. Gov. Jack Markell (D) Tuesday signed into law Rylie's Law, named after a Delaware youth who suffered from epileptic seizures. The law will allow physicians to recommend the use of CBD cannabis oils for epileptic children who do not respond to other treatments. The oil will only be available at medical marijuana dispensaries, the first of which opens Friday.
Drug Policy
New York City Council Ponders Bill to Shift Drug Policy Toward Public Health and Safety. The council is considering a measure to create an Office of Drug Strategy, which would coordinate policy and program priorities across city agencies and in collaboration with community groups. If approved, it would be the first such office in the US. The idea is to shift away from punitive criminal justice approaches and toward a public health approach.
Harm Reduction
Federal Lawmakers Introduce Overdose Prevention Bill to Combat Heroin and Opioid Overdose Crisis. Sen. Jack Reed (D-RI) and Rep. Donna Edwards (D-MD) Wednesday introduced identical bills to support the expansion of overdose prevention services. Both bills would expand community-based overdose prevention programs that provide resources to those likely to witness an overdose and be in a position to help, such as first responders and family members. Resources include trainings on how to recognize the signs of an overdose, seek emergency medical help, and administer naloxone and other first aid. Both bills would provide federal funding for the purchase and distribution of naloxone by community and public health stakeholders to people at risk of experiencing or witnessing an overdose. They are not yet available on the congressional website.
Louisiana Governor Signs Overdose Reversal Drug Access Law. Gov. Bobby Jindal (R) Tuesday signed into law House Bill 10, which allows doctors to write prescriptions for naloxone, the opiate overdose reversal drug, for drug users, friends, and family members. Louisiana law already allows first responders to carry the drug.