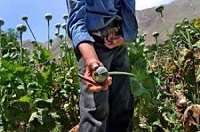 The year's 35th drug war fatality took place Thursday in San Bernardino, California, where an undercover cop was wounded and a suspect killed.
For the second time in less than a week, police doing drug operations have shot and killed an armed suspect.
California continues to see dispensary battles, Rhode Island's third dispensary opens, medical marijuana is moving in the South, and more.
A Baltimore cop who insisted on arresting the wrong guy is in trouble, a suburban Chicago cop who tried to be a little too helpful to some women has lost his job, and a Tennessee cop facing federal drug-related money laundering charges retires with his benefits.
More poppies are growing than ever in Afghanistan, and they helped fund the recent presidential election; the UNODC head tsk-tsks at US legalization votes, Nevada petitioners hand in 2X the signatures needed, federal bills get more sponsors, and more.
New York's city council speaker says legalize it, there are medical marijuana moves in Connecticut and Maryland, a Utah commission suggests defelonizing drug possession, a Peruvian petition seeks to end arrests for drug use, which is not a crime in Peru, and more.
Congress may "just say meh" to DC legalization, Washington state's first pot auction was a success, it's back to the drawing board for Florida Charlotte's Web regulators, Lebanese hash farmers have an unusual problem, Guatemala's president said pot legalization could be coming soon, and more.
Get ready for "Marley Natural" weed, there are now competing legalization efforts in Maine, a high-CBD medical marijuaan bill is the first one pre-filed for next year in Georgia, the DC city council approves civil asset forfeiture reform, and more.
Oregon cities will fight to be allowed to tax marijuana, the CRS says state-level legalization leaves the US vulnerable to criticism on international drug treaties, federal reform bills pick up more sponsors, Hawaii medical marijuana patients get some rental protections, Iran is fine with executing drug traffickers, and more.
Permission to Reprint:
This issue of Drug War Chronicle is licensed under a modified
Creative Commons Attribution license
. Articles of a purely educational nature in Drug War Chronicle appear courtesy of DRCNet Foundation, unless otherwise noted.