Congress may "just say meh" to DC legalization, Washington state's first pot auction was a success, it's back to the drawing board for Florida Charlotte's Web regulators, Lebanese hash farmers have an unusual problem, Guatemala's president said pot legalization could be coming soon, and more. Let's get to it: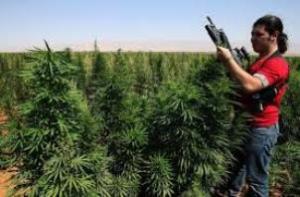 Marijuana Policy
Congressional Republicans Not Too Interested in Blocking DC Legalization. Congressional Republicans, eager to wage battle against President Obama and the Democrats on immigration reform and the Affordable Care Act, don't appear that interested in trying to block the District of Columbia from implementing the marijuana legalization initiative voters approved on Election Day. The Washington Post quoted several senators who said they had other things on their minds. "That's pretty far down my list of priorities," said Sen. Lindsey Graham (R-NC). "I haven't given it one thought," said Sen. Rob Portman (R-OH). The Post also quoted a Heritage Foundation analyst as saying trying to block DC legalization could cost valuable political capital and expose a rift between GOP social conservatives and libertarians.
Washington State's First Pot Auction Brings in $600,000. In the first auction of legally licensed and produced marijuana in the state, Fireweed Farms sold more than 300 pounds of pot Saturday at an average price of $2,000 a pound. That's a $600,000 payday for the growers.
Pot Smoking Tickets Up Nearly Five-Fold in Denver. Through the first three quarters of this year, Denver police have cited 668 people for public pot smoking, compared to just 117 during the same period last year. That's a 471% increase. Even under legalization, public display and consumption of marijuana remains a no-no. Some advocates said public consumption will be an issue until the city allows for it to be consumed in bars or pot clubs.
Medical Marijuana
Florida Judge Rejects Medical Marijuana Growers Lottery Plan, Sends Health Department Back to Drawing Board. The state legislature this year approved the use of low-THC, high-CBD cannabis oils, but now an administrative law judge has ruled that the Department of Health's plan to use a lottery to choose growers is not the way to go. "I knew that the lottery became strictly a chance-based scenario and it wasn't merit-based or experience-based. And to me, I had to object to it," said Judge W. David Watkins in his order last Friday. The ruling should result in a better system of distributing licenses, but it could also delay when the cannabis oil actually becomes available to patients.
Asset Forfeiture
Scranton Times-Tribune Calls for Asset Forfeiture Reform. One of Pennsylvania's mid-level newspapers has jumped on the asset forfeiture reform bandwagon. In a Monday editorial, The Scranton Times-Tribune called for federal civil asset forfeiture reform. Citing "pervasive abuses" by state, local, and federal law enforcement agencies, the newspaper called on the Congress to pass pending asset forfeiture reform legislation, and for Pennsylvania officials to examine whether the state's asset forfeiture law needs reform as well.
Prescription Drugs
DEA Pays Visit to NFL Teams Over Use of Pain Relievers. Spurred by reports of widespread use of prescription pain relievers in a recent lawsuit filed against the NFL, DEA agents Sunday visited several NFL teams to question medical staff members about their prescribing practices for drugs used to energize players before games and relieve their pain afterward. The DEA characterized the visits as "administrative," and nothing was seized and no one detained. "Our role is law enforcement, and we have the regulatory authority to make sure anyone who has a license operates within the law," said DEA spokesman Rusty Payne.
Harm Reduction
Chicago Recovery Alliance's Harm Reduction Gets Work Some Notice. The DePaul University newspaper The DePaulia has profiled the Windy City's Chicago Recovery Alliance and the harm reduction work in which it is engaged. The newspaper calls harm reduction "a small movement in the United States meant not to stigmatize drug users, but to safely educate and assist drug users with the ultimate purpose of reducing risk and eliminating drug-related complications and deaths." It's actually a pretty good overview of the harm reduction field.
International
With Lebanese Army Busy with Syrian Civil War, Hash Farmers Are Cursed By Oversupply. For the second year in a row, the Lebanese Army has been too concerned with the fighting on its borders to get around to eradicating marijuana crops in the Bekaa Valley, but the hash farmers can't win for losing. Now they face a flooded market and falling prices. Before the Syrian civil war and the glut, farmers were getting $1,500 for 1.2 kilos of hash; now that price has fallen to $500. Not only is the glut the problem, but political and military insecurity have made smuggling more difficult as well, feeding further downward price pressures.
Guatemala President Says County Could Legalize Marijuana Next Year. In an interview with TeleSur TV on Saturday, President Otto Perez Molina said Guatemala would decide early next year whether to follow Uruguay on the path to marijuana legalization. Perez Molina has also made similar noises about legalizing opium poppy production. Stay tuned.