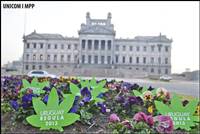 A bill to legalize and regulate marijuana markets and consumption has passed the lower House of the Uruguayan parliament. It now heads for the Senate later this year.
Will Ohio go for medical marijuana in November 2014? The Ohio Rights Group is gathering signatures now to put the Ohio Cannabis Rights Amendment on the ballot next year.
The leader of Canada's Liberal Party, Justin Trudeau, has reenergized the drug policy debate north of the border by calling for marijuana legalization.
Now more than ever, StoptheDrugWar.org needs your financial support to continue to provide this crucial informational tool that builds and empowers the movement. We have a special new offer for those donating $50 or more, which this post provides some updated information about.
A dispensary is now open for business in the nation's capital, several dozen are coming to Arizona, dispensary and cultivation battles continue in California, Massachusetts advocates prepare to protest restrictive regulations, and the DEA hits a Michigan dispensary.
The overall US prison population continues an achingly slow decline even as the federal prison population continues to expand, but there are still more than 330,000 drug war prisoners in America, and that's not even counting the jails.
The DEA will pay $4.1 million to a San Diego college student whom agents locked in a holding cell and forgot about for five days.
A "for cause" welfare drug testing bill has passed the North Carolina legislature and now awaits the governor's signature.
It looks like two, and possibly three, Michigan communities will vote on marijuana decriminalization this year. It's part of a broader effort to pass a statewide decrim bill.
The Western Mexican state of Michoacan is becoming the latest hotspot in Mexico's drug wars, and now, a high-ranking Mexican Navy officer has been killed.
A suburban Phoenix photographer was shot and killed by police on a drug raid Wednesday afternoon. His friends are skeptical of the official version of events.
A Georgia narcotics officer was killed Tuesday when his vehicle crashed as he rushed to assist in a traffic stop drug bust. Another was seriously injured.
Deputies packing dope, jail guards smuggling dope, cops doing a little money laundering, and cops getting information for their dope dealer buddies. Just another week in the drug war.
Interns are making an important difference fighting the good fight with us at StoptheDrugWar.org.
Permission to Reprint:
This issue of Drug War Chronicle is licensed under a modified
Creative Commons Attribution license
. Articles of a purely educational nature in Drug War Chronicle appear courtesy of DRCNet Foundation, unless otherwise noted.