An undercover officer with the Columbus, Georgia, Metro Narcotics Task Force was killed Tuesday and another seriously injured when their vehicle crashed as they rushed to assist in a drug bust traffic stop. Corporal Thomas Keith Slay, 53, becomes the 23rd person to die in US domestic drug law enforcement operations so far this year.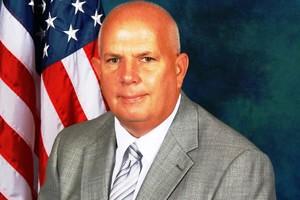 According to the
Columbus Ledger-Enquirer
, Slay and Russell County sheriff's Deputy Brad Evans "were on an operation and going to assist another officer in a traffic stop" when the unmarked black Ford pickup driven by Slay traveling at high speed with blue lights and siren activated was struck by another vehicle. The officers' vehicle then slid sideways and struck a utility pole, snapping it in half.
Slay was pronounced dead shortly thereafter at a local hospital, while Evans, who suffered head injuries, underwent surgery Tuesday night. Both men were assigned to the multi-agency drug task force.
Slay was a 30-year law enforcement veteran, serving first with the Russell County Sheriff's Department and then with the Columbus Police. In addition to serving on the drug task force, he was also the task force's helicopter pilot.
There is no word on the results of the traffic stop to which Slay and Evans were heading to provide backup.