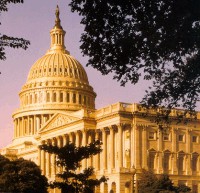 A bill that would end federal marijuana prohibition is now before Congress.
Musician Jimmy Tebeau bought a rural Missouri property and turned into a concert venue called Camp Zoe. Now, the feds want to seize it and jail Tebeau over allegations of drug use and sales at concerts there.
A bipartisan group of US Representatives has introduced Congress's first marijuana legalization bill. Please visit our action alert web site to take action in support.
There is a new effort underway to put a pot legalization initiative on the ballot in Washington state next year.
Signature-gathering is about to get underway for an effort to overturn or suspend Montana's harsh new medical marijuana law.
When confronted with new intoxicating substances, legislators' prohibitionist reflexes kick in. Just ask fake pot and "bath salts" users.
Mexico's president feels "misunderstood" about his bloody drug war, but the killings continue despite his hurt feelings.
Ah, the crooked prison guards are back. We missed them last week, but we knew they wouldn't stay away long.
We may be about to see the first defection from the legal backbone of global drug prohibition, the 1961 UN Convention on Single Drugs. Bolivia is ready to dump it, at least temporarily, over its classification of coca as an illicit drug.
New Zealand's marijuana reform community has seen one of its leading lights jailed for eight months, but that never stopped Dakta Green before.
The Lebanese police's annual marijuana eradication campaign in the Bekaa Valley got off with a bang Monday, as police were attacked at least twice.
Events and quotes of note from this week's drug policy events of years past.
Permission to Reprint:
This issue of Drug War Chronicle is licensed under a modified
Creative Commons Attribution license
. Articles of a purely educational nature in Drug War Chronicle appear courtesy of DRCNet Foundation, unless otherwise noted.