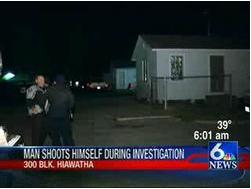 A new designer drug is generating the same old knee-jerk prohibitionist responses. Be scared, very scared!
Who could have foreseen this? Laws designed to limit illicit meth production by tracking cold pill purchased have led to a whole new black market, the AP reports.
DrugWarFacts.org, a publication of Common Sense for Drug Policy, is an in-depth compilation of key facts, stats and quotes on the full range of drug policy issues, excerpted from expert publications on the subjects. The Chronicle is running a series of info items from DrugWarFacts.org over the next several weeks, and we encourage you to check it out.
A campus cop, an auxiliary cop, and a sheriff's deputy all go down.
New year, new body count in Mexico's seemingly unending prohibition-related violence. It's up to 136 so far this year.
Despite a nationwide emergency ban by the DEA, some state legislators still feel impelled to ban synthetic cannabinoids at the state level.
One Nebraska state senator has identified a grave threat to the Cornhusker State: Welfare recipients on drugs.
The Illinois House has shot down a medical marijuana bill already passed by the state Senate, but there is an outside chance it could still get another shot this session.
The year's second death during a drug law enforcement operation occurred Tuesday in Corpus Christi. Police said it was a suicide, but some local observers are assuming the worst.
Events and quotes of note from this week's drug policy events of years past.
Permission to Reprint:
This issue of Drug War Chronicle is licensed under a modified
Creative Commons Attribution license
. Articles of a purely educational nature in Drug War Chronicle appear courtesy of DRCNet Foundation, unless otherwise noted.