The DC marijuana legalization initiative picks up some welcomed support, there's a legal challenge to Washington state's ability to collect marijuana taxes, a Republican US senator talks drug reform and takes some jabs at Obama, fentanyl-laced heroin is killing people in Philadelphia, and more. Let's get to it: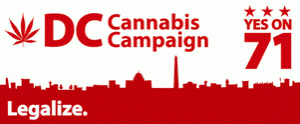 Marijuana Policy
Two Drug Reform Groups Get Behind DC Legalization Initiative. The Drug Policy Alliance has hired Dr. Malik Burnett as a full-time organizer in Washington, DC, to build support for Initiative 71, the DC marijuana legalization initiative. But his work in DC will also go beyond marijuana policy to include broader drug and social justice reform issues. Meanwhile, StoptheDrugWar.org (that's us) has endorsed the initiative and is seeking to deliver 5,000 of the 25,000 signatures needed. You can sign up to donate to our initiative effort here or sign up to volunteer here. Or click on the endorsement link for more information. Click the title link for more info about the DPA move.
Washington State Lawsuit Challenges State's Ability to Collect Marijuana Taxes. A Washington dispensary operator has filed a lawsuit attempting to stop the state from collecting taxes on marijuana sales. The operator, Martin Nickerson, is being prosecuted for the sale of medical marijuana he produced and argues that forcing him to pay taxes on his marijuana sales would violate his 5th Amendment right against self incrimination. He is represented by Douglas Hiatt, a Seattle marijuana and medical marijuana defense attorney and ardent foe of the I-502 legalization scheme. I-502's main proponent, Alison Holcomb, said she thinks the lawsuit has little chance of succeeding.
Ohio Supreme Court Forum to Discuss "Unintended Consequences" of Legalization Today. A discussion on "Marijuana Legalization and the Law of Unintended Consequences" moderated by state Supreme Court Justice Maureen O'Connor will take place today at 5:30pm at the Ohio Supreme Court in Columbus. Panelists are Colorado Deputy Atttorney General David Blake, Ohio State law professor and Sentencing Law and Policy blog author Douglas Berman, and Marijuana Policy Project director of federal policies Dan Riffle. Questions can be submitted via Twitter using hashtag #OhioFOTL.
Illinois Drug Policy Consortium to Discuss New Marijuana Policy Report Monday. The IDPC will have a panel discussing its new report on marijuana policy, Patchwork Policy: An evaluation of arrests and tickets in Illinois, next Monday, the day it is released. Click on the link for more info, including time and location details.
Medical Marijuana
Iowa Governor Likely to Sign Limited CBD Medical Marijuana Bill. Gov. Terry Brandstad (R) told a news conference Monday he has consulted with the governors of other states that have passed limited CBD medical marijuana bills and he thinks Iowa can move forward without "unintended consequences." He gave the legislature credit for crafting a very tight bill. "I think it's important that we respond to legitimate concerns from the public but we also have to protect against unforeseen consequences. I think the legislature in this case has tried to do that. My inclination at this point is to say that I'm inclined to think that it's likely that I will sign it," he said. The bill is Senate File 2360.
Drug Policy
Republican Senator Rob Portman Talks Drug Reform. Sen. Rob Portman (R-OH) is set to give a speech today at the American Enterprise Institute in Washington, DC, in which he will reportedly call for a reassessment of the decades long war on drugs. He will also reportedly criticize President Obama's plan to grant clemency to hundreds or thousands of convicted drug offenders, calling it a "band aid solution" that doesn't address deeper problems driving recidivism. He will also advocate for reauthorization of the Second Chance Act, which is aimed at reducing recidivism. Portman could have national ambitions in 2016.
Heroin
Fentanyl-Laced Heroin Killing People in Philly. At least 28 people in Philadelphia died from overdosing on fentany-laced heroin between March 3 and April 20, the Department of Behavioral Health and Intellectual Disability said Monday. The department is awaiting test results on seven more people. Fentanyl is a powerful narcotic many times more potent than heroin and is used to treat severe pain. An earlier wave of fentanyl-laced heroin killed 269 people in the city in 2006 and more than 2,000 people nationwide. The city health department has issued an alert.
International
Zetas Co-Founder Among Six Killed in Mexican Border Town Shootout. Gallando Mellado Cruz, one of the military deserters who helped found the gang of drug enforcers for the Gulf Cartel that morphed into the Zetas, was among six people killed in a gun battle between Mexican soldiers and cartel gunmen in the border town of Reynosa, Tamaulipas, just across the Rio Grande River from McAllen, Texas. Four other cartel gunmen and one soldier also died. Tamaulipas was the scene of bloody infighting between the Zetas and the Gulf cartel before calming down somewhat in 2012, but fighting has broken out again in recent weeks.
Canada's Sensible BC Announces Future Plans. The Canadian marijuana law reform group Sensible BC, which managed to gather more than 200,000 signatures for a provincial referendum to stop arrests for pot possession in BC, but still failed to make the ballot, has announced it will hold off on another referendum campaign until after the federal election in October 2015. Then, if Conservative Prime Minister Steven Harper wins reelection or if his replacement refuses to move forward on legalization, the group says it will launch a new referendum campaign in 2016. Until then, Sensible BC says it will focus on building its network and organization, keeping the issue alive in the media, and working on municipal elections coming in November.