This issue of Drug War Chronicle is dedicated to Steve Fox.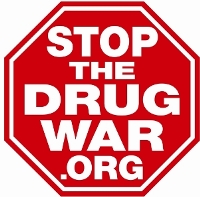 One of the main movers behind Colorado's historic marijuana legalization initiative has left us.
The White House has released its drug policy priorities for its first year. It's a mixed bag.
Some Delaware dispensaries are under fire from legalization activists, South Dakota's Republican governor still wants to change the voter-approved medical marijuana law, there's progress in the South, and more.
Busy, busy, busy. Crooked pot-robbing California deputies, a pervy Pennsylvania DARE officer, a gun-stealing heroin addict Connecticut cop, and more.
DC's mayor is ready to move ahead with legalizing marijuana sales, Senate Majority Leader Chuck Schumer is ready to move ahead with federal marijuana legalization, and more.
A Louisiana Republican state representative has filed a marijuana legalization bill, an effort to advance even minor asset forfeiture reforms hits law enforcement opposition, and more.
New York police will no longer be able to search vehicles based solely on the smell of marijuana, the Montana House passes a trio of competing legalization implementation bills, a cartel massacre in Mexico leaves more than two dozen dead, and more.
Medical marijuana bills advance in several states, Virginia legalizes marijuana, a West Virginia bill to continue mandatory drug screening and testing of welfare recipients passed the House, and more.
A bill to decriminalize buprenorphine is heading for the Vermont Senate, New Zealand makes a pilot pill testing program permanent, and more.
An American citizen in Dubai faces three years in prison after testing positive for marijuana, Delaware marijuana legalization activists urge boycott of dispensaries that testified against legalization bill, and more.
A simple policy change causes a massive drop in pot arrests in San Antonio, the Maryland legislature has approved the legalization of drug paraphernalia, Vancouver sets proposed drug decriminalization quantities, and more.
Washington's governor commutes some drug possession sentences after the state's Supreme Court voids its felony drug possession law, the St. Louis County Council votes to decriminalize pot possession, the Orleans Parish prosecutors is not going to try most drug possession cases anymore and more.
A Minnesota marijuana legalization bill continues to move in the House, the acting drug czar pledges more funds for drug treatment and greater access to overdose reversal drugs, and more.
Permission to Reprint:
This issue of Drug War Chronicle is licensed under a modified
Creative Commons Attribution license
. Articles of a purely educational nature in Drug War Chronicle appear courtesy of DRCNet Foundation, unless otherwise noted.