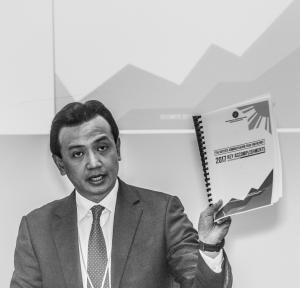 The state criminal justice and Republican political establishment is opposed. Imagine that.
The former heads of state behind the Global Commission on Drugs, that's who.
He's at the UN to call for a more regressive global drug policy.
StoptheDrugWar.org condemns the Duterte administration's illegal move to imprison a second prominent drug war critic, and the court system's strained logic going along with it.
The DEA last week rescheduled the marijuana-based drug Epidiolex, California's governor vetoes a compassionate access bill, Michigan dispensaries must have licenses by Halloween or be shut down, and more.
It's prison guards gone bad this week, plus a crooked NYPD cop, and more.
A bad provision gets stripped out of the congressional opioid package, a Pennsylvania legislator files a legalization bill, Mexican Marines disarm Acapulco cops, and more.
The House GOP once again blocks a marijuana reform, the DEA reschedules a marijuana-based drug, Ontario sets its pot sales rules, and more.
Jerry Brown signs and vetoes drug bills, the drug czar's office confirms the existence of a secretive marijuana committee, Johns Hopkins researchers suggest psilocybin should be Schedule IV, and more.
Some members of Congress want to know why the DEA approves research marijuana imports but not research marijuana here, New Jersey's governor says legal pot is coming, California's governor vetoes a bill that would have let dispensaries give free samples to poor medical marijuana patients, and more.
The drug czar's office tells a US senator a multi-agency review of marijuana will be "objective," protestors target Rep. Andy Harris over his opposition to allowing medical marijuana to treat opioid addiction, Ohio regulators take a first step toward banning kratom, and more.
Congress sends an omnibus opioids bill to the president's desk, the DEA has another Colombia scandal, the San Francisco police and Los Angeles sheriff's deputies face charges of racial profiling, and more.
Permission to Reprint:
This issue of Drug War Chronicle is licensed under a modified
Creative Commons Attribution license
. Articles of a purely educational nature in Drug War Chronicle appear courtesy of DRCNet Foundation, unless otherwise noted.