Jerry Brown signs and vetoes drug bills, the drug czar's office confirms the existence of a secretive marijuana committee, Johns Hopkins researchers suggest psilocybin should be Schedule IV, and more.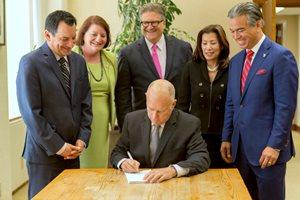 Marijuana Policy
White House Confirms It's Been Running An Anti-Marijuana Committee. The White House Office of National Drug Control Policy (ONDCP -- the drug czar's office) has confirmed the existence of a secretive committee operated from the White House with an agenda to portraying marijuana as a national threat and propagating negative attitudes toward the drug and its users. The existence of the committee was revealed by Buzzfeed News last month, and ONDCP confirmed its existence in a letter to Sen. Michael Bennet (D-CO), who inquired after the initial media report. ONDCP claims the work of the committee will be unbiased.
California Governor Signs Cannabis Equity Act into Law. Gov. Jerry Brown (D) has signed into law Senate Bill 1294, the Cannabis Equity Act. The law aims to reverse some of the damaging impacts marijuana prohibition has had on people from disadvantaged communities. It is the first social equity marijuana law passed in the United States. Four California cities -- Los Angeles, Oakland, Sacramento, and San Francisco -- have already established local equity programs, and they will be well-placed to receive funding under this new law.
Michigan Poll Has Legalization Initiative Winning. A new poll from EPIC/MRA for the Detroit Free Press has the Proposal 1 marijuana legalization initiative winning the support of 55% of respondents, with 41% opposed. While that is a fairly comfortable lead, it is down from the 61% support reported by the same pollsters in a March poll.
Medical Marijuana
Utah Medical Marijuana Initiative Opponents Pony Up Cash. Opponents of the Prop 2 medical marijuana initiative are ponying up big bucks in a bid to defeat the measure. Wealthy Utahns have contributed $230,000 to the opposition group Drug Safe Utah in recent months and $65,000 to another anti group, the Truth About Proposition 2, while initiative sponsors the Utah Patients Coalition has raised only $68,000, with $50,000 of that coming from the Marijuana Policy Project.
Hemp
California Governor Signs Hemp Bill. Gov. Jerry Brown (D) has signed into law Senate Bill 1409, which clarifies the state's existing hemp laws. The law ends some certification requirements on hemp seed cultivars and restriction on how hemp can be produced.
Psychedelics
Johns Hopkins Researchers Suggest Psilocybin Should Be Reclassified as Schedule IV. In an evaluation of the safety and abuse research on psilocybin, the psychoactive ingredient in magic mushrooms, researchers at Johns Hopkins University suggested that if the drug clears clinical trials, it should be scheduled as Schedule IV, like prescription sleeping aids. It is currently classified as Schedule I, a drug with no known medical potential and a high potential for abuse.
Harm Reduction
California Governor Vetoes Safe Injection Site Bill. Gov. Jerry Brown (D) has vetoed Assembly Bill 186, which would have allowed San Francisco to open overdose prevention services that would let drug users use controlled substances under the supervision of staff trained to treat and prevent drug overdose and link people to drug treatment, housing, and other services. "I am shocked that the Governor turned his back on the science and the experts and instead used outdated drug war ideology to justify his veto," said Laura Thomas, Interim State Director of the Drug Policy Alliance. "He cited long-disproven ideas about substance use in his veto message rationale. It's disturbing that Governor Brown apparently believes these myths about the need for coercive treatment and even more disturbing that people will die because of his veto. Drug overdose is the leading cause of accidental death in California. How many people have to die before Governor Brown is willing to listen to the science and evidence and experience? How many families have to lose a loved one?"
Sentencing
California Governor Signs Bill Giving Judges Power to Set Aside Five-year Sentencing Enhancement. Gov. Jerry Brown (D) has signed into law Senate Bill 1393, the Fair and Just Sentencing Act. The bill will give state judges the discretion not to impose five-year sentencing enhancements if they feel they are unwarranted. "This new law is a crucial step in ending the mandatory use of failed and punitive policies from California's tough on crime era," said Eunisses Hernandez, Policy Coordinator at the Drug Policy Alliance. "This five-year enhancement is one of the most used enhancements in California; with close to 100,000 years applied to sentences of people in custody of the California Department of Corrections and Rehabilitation. California can and must continue to be a leader in repealing ineffective and punitive policies that waste millions in taxpayer dollars on incarceration, tear families apart, and fail to help our communities thrive."