Even as US President Donald Trump was using the meeting Monday of the United Nations General Assembly to try to create a hardline global drug policy coalition, a group that includes a dozen former heads of state from countries around the planet issued a report urging governments to embrace alternatives to a "failed" repressive drug war. Instead, the group argued, countries should begin to try to implement regulated markets for illicit substances.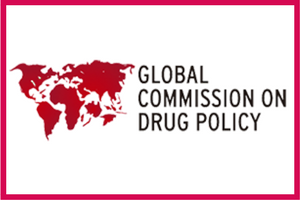 While Trump spoke in New York City, the Global Commission on Drug POLICY unveiled its report,
Regulation: The Responsible Control of Drugs
, with a press conference in Mexico City, capital of a nation frequently scapegoated by Trump for America's drug crises, but which in reality has suffered mightily from the demons unleashed by drug prohibition. The county's death toll in a decade of heightened prohibition-related cartel and government violence now exceeds 200,000 -- the kind of figure associated more with festering civil wars than with law enforcement problems.
One of Mexico's former presidents, Ernesto Zedillo, is a member of the commission, established in 2011 by former U.N. Secretary-General Kofi Annan, along with former presidents and prime ministers of Brazil, Chile, Colombia, East Timor, Greece, Malawi, New Zealand, Nigeria, Poland, Portugal, and Switzerland. The group also includes notable global figures, such as Richard Branson and Mario Vargas Llosa, as well as American political names such as former Secretary of State George Schultz and former Federal Reserve Chairman Paul Volcker.
"A demand for drugs exists, and if it is not satisfied through legal ways, then it will be satisfied by the illegal market," said commission chair former Swiss President Ruth Dreifuss, "Prohibition has allowed criminal organizations to control the whole chain of drugs. Every region in the world suffers from violence induced by turf wars over production areas and transit routes, from corruption and connivance of state institutions, and from the laundering of drug money, which damages the legal economy and the functioning of democratic institutions."
In the report, the commission calls on policymakers to open local and national participatory processes to shape the reforms and collect evidence on the legal regulation of drugs. That's something incoming Mexican President-elect Andres Manuel Lopez Obrador has already begun with his town hall meetings on violence and his proposal of amnesty for non-violent traffickers and drug crop farmers.
"This report provides a coherent account of what the legal regulation of drugs can look like in a real-life context, based on scientific evidence and current regulatory frameworks for legal substances," said Dreifuss. "It draws particular attention to the risks associated with over-commercialization and the need to learn from mistakes in regulating alcohol, tobacco and prescription opioids."
The global leaders also call for the renegotiation of the international treaties that form the legal backbone of global drug prohibition. Not only do they encourage a repressive approach to the drug question where drug users and low-level dealers face stiff prison sentences, they are also increasingly out of touch with social and political realities. Uruguay, Canada, and nine American states have legalized marijuana in contravention of the treaties, and Bolivia does not acknowledge coca's inclusion in their drug schedules.
"The international drug control system has failed to achieve its own objectives in terms of the supply in and demand for drugs," said former New Zealand Prime Minister Helen Clark. "It needs to adapt quickly to the reality that an increasing number of states are calling for or have implemented reforms which are incompatible with the framework it established. The gap which has developed between the expectations created by that framework and the reality on the ground needs to be faced up to. A new system is urgently needed which will support countries to implement effective drug policies."
American drug reformers applauded the commission's call for a new approach.
"The war on drugs has been an abject failure that has had devastating consequences throughout the world," said Maria McFarland Sánchez-Moreno, executive director of the Drug Policy Alliance (DPA). "Amidst this backdrop, it is heartening to see experienced world leaders boldly step forward with innovative, forward-looking proposals that are grounded in human rights, health, and development."
In a world where Donald Trump's drug war photo-op at the UN gets the press, it's easy to forget that when it comes to drug policy, the global prohibitionist consensus has already crumbled. The commission's report is a salutary reminder that better ways exist -- if we can muster the political muscle to implement them.
[Disclosure: Drug Policy Alliance is a funder of the organization that publishes this newsletter.]