Mission | Cause | Programs | History | People | Financial & Legal | Donating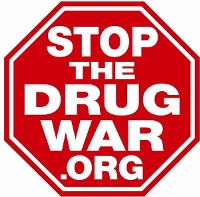 StoptheDrugWar.org works for an end to drug prohibition worldwide, and an end to the "drug war" in its current form. We believe that much of the harm commonly attributed to "drugs" is really the result of placing drugs in a criminal environment. We believe the global drug war has fueled violence, civil instability, and public health crises; and that the currently prevalent arrest- and punishment-based policies toward drugs are unjust.
Consistent with our goal of ending prohibition (e.g. some form of "legalization"), StoptheDrugWar.org also works toward partial reforms of drug policy that are politically feasible in the present, including: marijuana legalization; criminal justice and policing reform; harm reduction practices such as needle exchange; demilitarization of US-driven drug policy in Latin America and other regions, and on the US borders; and availability of substances for medical use; among others. Our primary but not exclusive emphasis is on US policies.
StoptheDrugWar.org pursues these objectives through the following strategies:
Publication of extensive, journalistic-level materials, mostly online, an area in which we are an acknowledged leader;
Long-term organizing of coalitions advocating specific policy reforms for which mainstream support can be mobilized for political change in the near term;
Grassroots activation and mobilization of drug policy reform supporters; and
Incorporating practices in all of our programs that support and grow the drug policy reform movement, and the many organizations that make it up.
Why stop the drug war? Why legalization of drugs?
US drug policy is in a state of moral and humanitarian crisis, shaming us before history: Half a million nonviolent drug offenders clog our prisons and jails. Mandatory minimum sentences and inflexible sentencing guidelines condemn numerous low-level offenders to years or decades behind bars, often based solely on the word of compensated, confidential informants. Profiling and other racial or economic disparities assault the dignity and safety of our poor and minorities and deny them equal justice. Overall, criminalization has become a reflexive, default reaction to social problems, as opposed to its more limited, proper role as a last resort after other methods have failed. As a result, more than two million people are imprisoned in the United States, the highest incarceration rate of any nation.
The unintended consequences of the drug laws wreak a devastating toll on large segments of our society and on other countries: Prohibition creates a lucrative black market that plagues inner cities with violence and disorder, and lures young people into lives of crime. Laws criminalizing syringe possession, and the overall milieu of underground drug use and sales, encourage needle sharing and increase the spread of HIV and Hepatitis C. Our drug war in Latin America fuels continuing civil conflicts, with prohibition-generated illicit drug profits enabling its escalation. Thousands of Americans die from drug overdoses or poisonings by adulterants every year, most of their deaths preventable through the quality-controlled market that would exist if drugs were legal. Physicians' justifiable fear of running afoul of law enforcers causes large numbers of Americans to go un- or under-treated for intractable chronic pain. And frustration over the failure of the drug war, together with the lack of dialogue on prohibition, distorts the policymaking process, leading to ever more intrusive governmental interventions and ever greater dilution of the core American values of freedom, privacy and fairness.
Drug policies have significantly driven a deep corrosion of the ethics and principles underlying our system of justice: Police officers routinely violate constitutional rights to make drug busts, often committing perjury to secure convictions; or resort to trickery and manipulation to cause individuals to give up their rights, enabled by an intricate web of legalistic court rulings stretching the letter of the law while betraying its spirit. Manipulation of evidence and process is standard procedure. Many prosecutors, thankfully not all, treat their position as a stepping stone to elected office, subjugating their oaths to seek justice to a political calculus based instead on individual career advancement. Corruption and misconduct among enforcers and within agencies is widespread. And all these problems, while not officially sanctioned, are in practice largely tolerated: criminal prosecution for police abuse is the exception, and disbarment for prosecutorial misconduct is almost unheard of. Meanwhile, false or unfair convictions occur with unacknowledged frequency, with persons thus victimized often spending years in prison while seeking exoneration.
(The three paragraphs above are excerpted from David Borden's open letter to DC chief judge Rufus G. King III, August 2003.)
While StoptheDrugWar.org advocates ending prohibition of all drugs, replacing it within some sensible regulatory framework, a good amount of our time goes toward current efforts to legalize marijuana, a special case with high political support due to that substance's relative safety. We also actively work for many of the partial reforms to drug policy described above.
Stopping the drug war is an issue of justice reform, civil rights, civil liberties, human rights, public health, and freedom. Along with organizations working in all those areas, StoptheDrugWar.org aligns with groups like the Global Commission on Drug Policy; statements of principle like the Vienna Declaration; the campaigns that fielded marijuana legalization initiatives in Colorado and Washington, and the voters who passed them; and many others.
StoptheDrugWar.org publishes the web site
http://stopthedrugwar.org
and the>
Drug War Chronicle
newsletter, a widely-read publication that is a staple tool of organizations and advocates worldwide and a venue in which their work is highlighted to others.
Our current advocacy focus is international drug policy. We organized sign-on letters and statements during the lead-up to the April 2016 "UN General Assembly Special Session on the World Drug Problem" (UNGASS), and continue to promote a broad policy reform agenda for the UN and the US Congress and administration. We are also organizing a campaign seeking to have Philippines President Rodrigo Duterte prosecuted by the International Criminal Court for thousands of extrajudicial killings that have taken place in the country's drug war since his election.
Following are some testimonials we received recently for how activists make use of Drug War Chronicle:
From 1998 through 2006, StoptheDrugWar.org organized a nationwide campaign to repeal a law that delays or denies college aid to students because of drug convictions. Much of our work on that campaign consisted of building a national coalition made up of hundreds of organizations opposed to the law. Also as part of the student aid/drug conviction campaign, StoptheDrugWar.org sponsored the John W. Perry Fund scholarship program to assist students affected by the law.
Today, flowing out of that work, we support sign-on letters to Congress on a range of drug policy and criminal justice reform issues, developed by DC-based working groups we participate in, recruiting signatories for the letters through our network of organizational contacts.
(More information on the college aid/drug conviction campaign and the Perry Fund appears below.)
StoptheDrugWar.org was founded by David Borden in 1993 as the Drug Reform Coordination Network (DRCNet), the pioneer organization for online activism in drug policy reform during the early days of the commercial internet. Since its inception the organization has staked out a clear and unambiguous stance in favor of ending drug prohibition outright.
In 1997, the organization launched a weekly newsletter, originally titled The Week Online with DRCNet and now known as
Drug War Chronicle
. The
Chronicle
is a high-quality, in-depth, widely-read and frequently cited educational report covering the full range of drug policy issues. The
Chronicle
is also a platform for the movement as a whole, highlighting the work of our allied organizations and providing a platform for their leaders.
In late 1998, the organization launched the Higher Education Act Reform (HEA) Campaign, opposing a law passed that year taking financial aid away from students because of drug convictions. Ten members of Congress participated in a press conference organized in 2002 by DRCNet under the umbrella of the Coalition for Higher Education Reform, a record still in place for a drug policy reform press conference. The coalition achieved a partial reform to the law in 2006, when it was limited to offenses committed while a student is in school and receiving federal aid -- one of only a few scale-backs to the federal drug war to date. A further reform that would have further limited the law's reach to sales convictions passed the House of Representatives, but the section of the education package that contained the language was removed when Democrats combined it with health care reform in 2010 as part of their strategy to pass both bills.
Through the HEA campaign, together with outreach on our email list and the work of our staff and student partners, we launched Students for Sensible Drug Policy (SSDP) into an independent national organization. Media outreach conducted jointly by the two organizations from 1999 through 2002 garnered coverage in most national media outlets. StoptheDrugWar.org also sponsored a scholarship fund supporting students losing aid under the law, the John W. Perry Fund, honoring a widely admired police officer who lost his life at the World Trade Center, who had been active in the drug policy reform movement.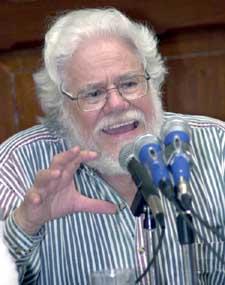 In late 2001 StoptheDrugWar.org launched "
Out from the Shadows: Ending Drug Prohibition in the 21st Century
," a global campaign and conference series. The lead event took place in Mérida, Mexico, drawing 300 attendees including legislators from seven countries. At the time Out from the Shadows Mérida featured the most extensive high level political participation ever seen at a drug policy reform conference.
In August 2006, we redesigned our web site and expanded our web site content model, incorporating a daily blog and other new content types, and shifting our newsletter itself from a weekly to a daily publishing model. Another site redesign was performed in 2010, and during that year StoptheDrugWar.org web site traffic first exceeded two million unique visitors. Today StoptheDrugWar.org content continues to be reprinted and widely made use of by organizations around the world.
In this time of scarcer funding, StoptheDrugWar.org has continued our primary focus on publishing and information, while also taking on areas of importance to drug policy reform in which we are in a position to make an impact through targeted efforts. Through our network of organizational policy contacts, we play an important role in DC-based justice reform working groups, recruiting signatories for sign-on letters to Congress. In September 2012 we held our first in a series of member teleconferences, featuring representatives of the three legalization initiatives. We are currently in the process of developing a set of new content areas for our web site and social media that will focus new attention on the harms of drug prohibition and alternatives.
David Borden, Executive Director
David Borden is founder and executive director of StoptheDrugWar.org. Borden played the leading role in pioneering use of the Internet for education and organizing in drug policy reform after founding DRCNet> in late 1993. Borden oversaw the organization's work on the Higher Education Act Reform Campaign, an effort to repeal a federal law that denies students financial aid because of drug convictions, and has initiated programs including the John W. Perry Fund scholarship program and the Out from the Shadows international conference series.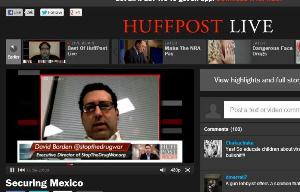 In August 2003, Borden sent an open letter to the District of Columbia's chief judge, Rufus G. King, explaining his decision to refuse to report for jury service as a protest of the drug war, an action which was covered by the Washington Post.
Borden earned an A.B. with honors in Astrophysical Sciences from Princeton University in 1988, and completed an M.M. in Jazz Composition from New England Conservatory in 1990. He is a native of Englewood, New Jersey, one of the first communities in the state to achieve racial integration in its school system. Borden is also a member of the Boards of Directors of Common Sense for Drug Policy and the Flex Your Rights Foundation, and of the Students for Sensible Drug Policy Council of Advisors.
Phillip S. Smith, Writer/Editor
Phillip S. Smith has served as writer and editor of the Drug War Chronicle newsletter since May 2000. He has reported from the opium fields of Afghanistan and the coca fields of Bolivia and Peru, as well as the US-Mexico border and the mean streets of North American cities from Vancouver to Washington, DC. In addition to the Drug War Chronicle, he has written on drug policy issues for High Times, Cannabis Culture, The Fix and other outlets. He also currently serves as drug policy editor for Alternet.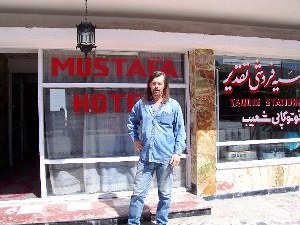 He is a graduate of the University of South Dakota (BA Political Science, 1979) and the University of Texas at Austin (MA Latin American Studies, 1989), and served as writer and Associate Editor at the magazine Covert Action Quarterly from 1993-1996. Phil has done freelance reporting on Central American and Mexico since the 1980s, and has had articles published in In These Times, the Guardian (now defunct), New Politics and many other publications.
He is also a long time drug policy activist, having helped to found one of the first NORML chapters in the state of South Dakota. He has been involved in local drug reform efforts in Austin, TX and Washington, DC, including the DC Metro chapter of NORML, and is currently involved in reform efforts in Northern California, where he currently resides.
David Borden, founder and executive director (bio above)
Joey Tranchina, founder, AIDS Prevention Action Network
Joey Tranchina, MA, is a photographer, writer, poet & teacher, who served as Executive Director of AIDS Prevention ACTION Network (APAN), a syringe exchange outreach project in Silicon Valley, CA, from 1989-2011, where he remains as Board President. APAN is currently developing "Project Mali," in West Africa, in collaboration with Stichting Issa Gindo, a Dutch Foundation. Tranchina lives in Séte, France, where he writes & makes photographs, while trying to see Africa from his balcony.
Board of Advisors
Rick Doblin, Multidisciplinary Association for Psychedelic Studies Charlotte, NC
Kevin Gray, Harriett> Tubman Freedom House Project, Columbia, SC
David Hadorn, MD
Jon Holmes, Lubbock, TX
Mario Lap, Foundation for Drug Policy & Human Rights Amsterdam, The Netherlands
Pamela M. Lichty, MPH Drug Policy Forum of Hawaii, Honolulu, HI
Eric Sterling, JD, Criminal Justice Policy Foundation, Washington, DC
Like many advocacy organizations, StoptheDrugWar.org consists of two related nonprofit corporations. These organizations are DRCNet Foundation, a 501(c)(3) a primarily educational nonprofit (donations to which are tax-deductible under the Internal Revenue Code); and Drug Reform Coordination Network, a 501(c)(4) nonprofit devoted primarily to lobbying (donations to which are typically not deductible).
The two organizations work together, sharing staff and other organizational resources, but are legally and financially separate. Shared expenses are allocated between the two organizations based on accepted cost-sharing rules approved by the IRS.
DRCNet Foundation steers clear of any work related to candidates for public office, due to restrictions on 501(c)(3) organizations in the Internal Revenue Code. In order to preserve StoptheDrugWar.org's ability to report on the the drug policy positions of candidates, in the face of restrictive IRS rulings regarding shared web sites in recent years, our web site and email list costs are financed entirely through our 501(c)(4) corporation, which owns the StoptheDrugWar.org web site and internet domain.
DRCNet Foundation legal & financial documents:
Drug Reform Coordination Network legal & financial documents:
StoptheDrugWar.org relies on donations from individuals for a large part of the funding that makes our work possible. As noted above, donations to our 501(c)(3) nonprofit, DRCNet Foundation, are tax-deductible and support our educational work. Donations to our 501(c)(4) nonprofit, Drug Reform Coordination Network, are typically not deductible, and support our lobbying work.
Donations to either organization can be made online at http://stopthedrugwar.org/donate using credit card or PayPal. The online form also lists a range of books, videos, and StoptheDrugWar.org gift items that are available upon request for people donating above specified levels.
Donations by check or money order can be mailed to us at P.O. Box 9853, Washington, DC 20016. We also accept donations by stock -- the information to give your brokerage is Ameritrade, (800) 669-3900), DTC #0188, and account number 781926492 for tax-deductible gifts to DRCNet Foundation or 864663500 for non-deductible gifts to Drug Reform Coordination Network -- please contact us if you are donating in this way.
Looking for the easiest way to join the anti-drug war movement?
You've found it
!