No Time Like the Present: Drug Policy Reform is More Urgent Than Ever
side event at the UN High-Political Forum on Sustainable Development
Wednesday July 8th, noon-1:30pm ET (midnight Philippines time)
https://us02web.zoom.us/j/89730771837?pwd=Ymc5ZmVDQTd5VVI5d05xaWU1TkJrdz09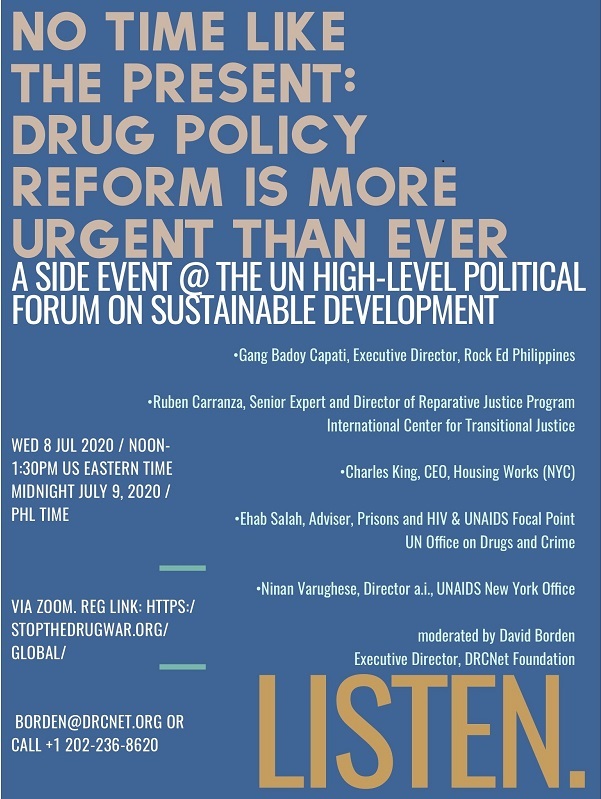 Thank you for taking the time to read about our global drug policy program. Below you will find descriptions of work we've done at the United Nations, with video and links to statements or news articles, but only updated through spring 2017. We had hoped to fully update this page before the close of this year, but didn't get it done in time.
Work done since then, about which we'll be adding in detail to this page soon, includes side events at the UN's High Political Forum on Sustainable Development (2018 and 2019), side events at the UN Commission on Narcotic Drugs meetings (2018 and 2019), an event at the International Criminal Court's Assembly of States Parties (December 2019), and work we've sponsored by partners on medical marijuana in the UN system from 2016 through this December.
Much of this work has related to our efforts to draw international attention and pressure onto the human rights crisis in the Philippine drug war. However, our July 2019 event at the High Level Political Forum on Sustainable Development also dealt with reentry programs for the formerly incarcerated, and access to education for people with criminal convictions.
Our March 2019 event drew significant media in the Philippines, due to the participation by Skype of Law School Dean and then senatorial candidate Chel Diokno, who criticized the "erosion of the Philippine justice system." This in turn drew a public response from the government's Justice Secretary, their equivalent of Attorney General.
As part of that ongoing effort we have covered not only the drug war and direct human rights issues, but also the disinformation and social media manipulation campaigns being carried out by President Duterte and his allies. Presentations done for our events including cutting edge academic research and journalism on how appearances are being manipulated through concerted paid online efforts by "trolls" and others.
Moving into 2020, we are returning some focus to the broad drug policy agenda described below, including but not limited to making the case for treaty reform and for better incorporating marijuana legalization into the international drug control system. We will also be resuming work on the issue of drugs and the death penalty, one that elicits strong feelings and debates at UN meetings.
---
While drug policy is primarily a national issue, there are needs and opportunities at the international level, and in US foreign policy, and global drug policy has an impact abroad and at home.
WashingtonPost.com story on our
UNGASS coalition statement
StoptheDrugWar.org plays a leading role in US-based global drug policy reform. We advocated at the United Nations and to the Obama administration during the lead-up to the second-ever "UN General Assembly Special Session on the World Drug Problem" (UNGASS) in April 2016, the first session at that level since 1998.
Our work has advanced the dialogue on the UN drug control treaties vs. legalization of marijuana or other drugs, and promoted the idea that human rights takes precedence over drug control objectives when the two are in conflict. We have argued for a range of reforms in the areas of public health, development, and access to medicine, all in turn based on human rights principles. Since 2017 we have also done high-profile work on the extrajudicial drug war killings situation in the Philippines.
Our 501(c)(3) educational nonprofit, DRCNet Foundation Inc., has been an accredited NGO in Special Consultative Status with the UN Economic and Social Council (ECOSOC) since July 2016. This enables us to deliver interventions (short speeches) at UN meetings, to organize side events at longer UN sessions, and to help other advocates get admitted to UN meetings.
Drug policy is implicated in global criminal justice and human rights issues such as sentencing and the death penalty. It affects public health issues like AIDS and Hepatitis C. Development is affected by drug policy, as are crime and security. The international system has made opioid pain medications largely unavailable in most countries. UN drug scheduling is a discouragement to governments wishing to legalize medical marijuana.
With respect to legalization, the big UN issue is treaties that have language proscribing it. The US position has been that marijuana is federally legal, and that tolerating state legalization is a mere prioritization of resources. This argument, however, is not well respected and has at best short-term value. While some jurisdictions have moved forward with legalization despite adverse treaty language, this comes at a diplomatic cost, and the current state of the treaties and other UN drug policies is a discouragement for many countries. (The end notes in our sign-on documents, all linked below, are a good source for reading on all these issues.)
Some of our work in this area, in reverse-chronological order:
statement of UN representative and medical cannabis patient Michael Krawitz, 63rd Session of the Commission on Narcotic Drugs, March 2020
Organized a global sign-on statement on the Philippines extrajudicial drug war killings situation, released during the November 2017 ASEAN Summit. The statement calls for a UN-led investigation into the Philippine extrajudicial drug war killings and for international aid donor governments to pressure the Duterte administration on the issue. Press coverage of the statement included articles in major Philippine news outlets, including the Daily Inquirer, Rappler, Interaksyon and the Philippine Star.
Submitted a statement for the Economic and Social Council (ECOSOC) 2017 Integration Segment (April 2017). The statement makes the case that adjustments are needed to drug policy in order to make the eradication of poverty a truly integral objective of UN programs, and noted several ways in which prohibitionist drug policies work against achievement of the UN's Sustainable Development Goals.
In March 2017 we presented "Human Rights Challenge: Responding to Extrajudicial Killings in the Drug War," a side event at the annual UN Commission on Narcotic Drugs meeting, dealing with Philippines President Rodrigo Duterte's drug war mass murder campaign. Vice President Leni Robredo of the Philippines, a critic of the killings, sent us a video for the event, which we also released online, initially through an exclusive on the TIME web site which was followed up by an interview.

Robredo's video drew massive attention in the Philippines and some internationally. Unfortunately, opponents of the vice president used the video to attack her politically, leading to a campaign for her impeachment, a threat which is currently being considered by the Speaker of the Philippine House of Representatives. We regret that political leaders of the Philippines misrepresented our event to attack the vice president, instead of facing the grim reality of widespread human rights abuses.
More information on our Philippines-related work, including full video footage and transcripts of our side event, as well as press coverage, is available here.
Also at the 2017 CND, we organized an NGO sign-on statement (initial submission on the UN Office on Drugs and Crime web site, updated version with more signatories on our web site). A major signatory on this statement, new to our global drug policy efforts, is the National Organization for Women (NOW).

We served as the ECOSOC sponsor
enabling this photo exhibit on Supervised
Injection Facilities to be presented at the
2017 UN Commission on Narcotic Drugs
meeting in Vienna.
We also served as ECOSOC sponsor for a side event on marijuana regulation and a photo exhibit on safe injection sites organized by European partners. David Borden presented on the panel, discussing the "path toward consensus" on marijuana legalization in the US. Since 2016 we have also provided UN accreditation for these and other partners in advocacy efforts on marijuana's status in the UN drug scheduling system, enabling them to serve as representatives to the UN facilities in Geneva and Vienna; and have served as the charitable sponsor nonprofit for donations to the project.
David Borden delivered an invited intervention on the relationship between drug policy and the Sustainable Development Goals, for the January 2017 Intersessional CND meeting (transcript on UNODC web site). The remarks noted tensions between drug prohibition and SDG goals #1 (poverty), #3 (health), #8 (work), #10 (inequality), and #16 (peace, justice and strong institutions. The remarks also noted the decline in global AIDS funding, particularly for programs responding to injection drug use.

David Borden delivered an intervention at the June 2016 High Level Meeting on Ending AIDS at the UN in New York, panel discussion on the Sustainable Development Goals. The remarks discussed ways that prohibition and the drug war contribute to the spread of HIV and AIDS, and called for the UN to take on these issues during the upcoming 2019 High Level Review of UN drug policy.



David Borden delivered an intervention during the April 2016 UNGASS, Roundtable on Cross-Cutting Issues. The remarks criticized the rationale countries had offered for avoiding any discussion of possible modifications to the treaties, noting that it's the norm for treaties to be updated at times. Borden also called for regulatory approaches to be considered for New Psychoactive Substances, one of several major issue areas in drug policy that the UN has identified, not solely prohibitionist ones.
Organized a teleconference for media on prospects for marijuana legalization in Canada and Mexico, featuring Mexican Senator Laura Rojas and Canadian Member of Parliament, as well as representatives of leading NGOs in both countries:
media coverage of the teleconference:

Our signature effort for the UNGASS was a major sign-on statement with nearly 350 organizational signatories, released to media and at the UN in May 2015 and again in April 2016. The statement was endorsed by such leading NGOs as ACLU, Human Rights Watch and AIDS United.

The statement argues that in cases of irreconcilable conflict, nations' obligations under the human rights treaties, which are enshrined as fundamental in the United Nations Charter, take precedence over provisions of the drug control treaties.

The statement also calls for a range of improvements to policies in areas such as development, public health and security; for the UN to appoint a "Committee of Experts" to study the topic of drug treaty reform; and calls on the Obama administration to harmonize its foreign policy on drugs with its domestic policies by providing leadership at the UN to make that happen.

media coverage of the statement:

We also organized a sign-on letter to President Obama in advance of the March 2016 Commission on Narcotic Drugs (CND) meeting that preceded UNGASS. It noted positive aspects to the administration's approach to UNGASS, but argued that "in key respects... the... US position for UNGASS [took] a short-term approach, stopping short of the crucial reforms called for by UN agencies and US allies, while failing to address new realities." The letter generated a great deal of excitement in the NGO community, and was signed by over 250 organizations in a short period of time, many of them representing mainstream issues affected by drug policy.

media coverage of the sign-on letter:

David Borden presented at a February 2016 preparatory event for UNGASS, at the UN in New York.

In April 2015 we organized a sign-on letter protesting the resumption of executions for drug offenses by the government of Indonesia. The link is to a copy of the letter published as part of an article in Huffington Post, linked from their home page for 24 hours.





What happened at UNGASS?

April's UNGASS was called at the request of the governments of Colombia, Mexico and Guatemala, nations for which the illicit drug trade creates security issues. Their hope was the UNGASS would be a platform for discussing fundamental issues and beginning a new course.

Reform met with resistance. Hard-line countries led by Russia and China opposed or diluted most reform-oriented proposals. European governments downplayed the importance of this NYC-based session, wishing to keep the center of gravity in UN drug policy in the smaller Commission on Narcotic Drugs (CND), based in Vienna, Austria. The UN works mainly by consensus, which meant there were limits on what any country or faction could accomplish.

The US, while advocating some good stances, opposed treaty reform, despite (or perhaps because of) the treaty issues that marijuana legalization presents. Reportedly the US lobbied other countries to oppose treaty reform as well. As a result, perhaps, many countries' position statements for UNGASS called for "commitment to the three UN drug conventions" or to "the integrity of the conventions" – code language for not changing them.

There were some victories. As part of the process, UN agencies submitted their own position papers, many highly progressive, as were the submissions from some countries and international organizations. EU states and others fought hard for language opposing the death penalty for drug offenses, though unsuccessfully. All that discussion is on the record. Civil society engagement brought more groups into drug policy reform, more fully, and NGOs gained more involvement.

And while the UNGASS Outcome Document avoids most big issues, it puts strong emphasis on treatment and alternatives to incarceration. It acknowledges the importance of human rights and proportionate sentencing. It has support for naloxone (the overdose antidote), medication-assisted treatment (e.g. methadone and buprenorphine), and safe injecting equipment, though avoiding the term "harm reduction" itself. It calls for addressing obstacles to opioid availability.

A detailed UNGASS report by the International Drug Policy Consortium is online here.
Looking for the easiest way to join the anti-drug war movement?
You've found it
!