For Immediate Release, 12/9/22
Contact: David Borden, [email protected]
NEW REPORT:
Dangerous Delays: What Washington (Re)Teaches Us
About Cash and Cannabis Store Robberies
First published study on characteristics of marijuana store robberies demonstrates connections between lack of banking access and violent crime in dispensaries in Washington State.
Washington, DC: A timely new report by David Borden of StoptheDrugWar.org has confirmed that cash is the leading driver of armed robberies targeting cannabis stores. The report, "Dangerous Delays," also finds that cash ties in to aggression and violence harming workers.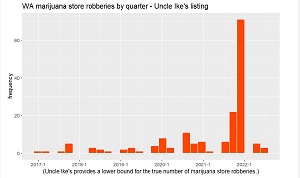 Dangerous Delays
is the first published study on characteristics of cannabis store robberies. Its findings and discussion present a compelling picture, with associated data, for interested parties and Congress to consider in relation to the SAFE Banking Act.
The report draws on the listings in the "Uncle Ike's i502 Robbery Tracker" to generate the data used in its statistical analysis. Uncle Ike's is a Seattle-based cannabis store chain that has compiled reports of robberies of cannabis stores since 2017. But tragic events which began in fall 2021 make it especially relevant now. As the Dangerous Delays report notes:
"While SAFE was stalling in the Senate [last year], Washington State's cannabis community was in the grip of an unprecedented surge in armed robberies of cannabis stores. This occurrence, which began in November 2021 and lasted 4 ½ months, saw nearly 100 reported robberies affect roughly 80 cannabis stores, and ended with three people dead."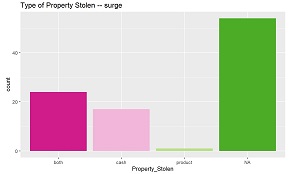 Dangerous Delays delves into questions using descriptive statistics about property targeted, areas of stores targeted, and documented aggression categories; and inferential statistical analysis testing possible relationships between robbery types and aggression.
Motivated by recurring reports about robbers seeking cash from the safe in the back of the store – a trigger for violence when employees don't know the combination – the study divides robberies by whether they targeted the back of the store or were limited to the front. The study also examines how often different types of property are targeted.
The report draws several key conclusions, including:
Based on current incentives, there is little reason to believe that robberies targeting the back of a store will continue (as opposed to burglaries), or continue at the same level, if cash is removed from the equation. The great majority of such robberies are aimed at accessing cash in the safe, and without cash or with much less of it, that will no longer be lucrative.
There will also be much less incentive to target the cash register at the front of the store, in the absence of strong profits there. Those are roughly half of the documented front-store robberies on Uncle Ike's. There's little reason to believe that front-store robberies targeting only cash will continue in that scenario.
Data finds few examples of product-only robberies (as opposed to burglaries which are mainly product-only). That may suggest product alone does not provide enough incentive to sustain interest in doing robberies, particularly because burglary is a viable option to obtain the same product. If so, then robberies targeting both cash and product may cease as well.
"Given what happened in Washington – which could happen again – it would be wholly unjustifiable for Congress to again put off enacting some form of the SAFE Banking Act," said Borden.
"But there will be more left to do after Congress passes SAFE, for the robberies problem to be thoroughly addressed," Borden continued. "One remaining piece is to specifically greenlight purchase transactions, which is how cash enters the system. The current language of SAFE explicitly addresses only depository banking."
The full report can be found at https://stopthedrugwar.org/delays or https://stopthedrugwar.org/files/delays.pdf.
– END –
Looking for the easiest way to join the anti-drug war movement?
You've found it
!