The three state agencies and the governor's office that constitute the state's medical marijuana working group on Monday released their draft recommendations for dealing with medical marijuana in the era of legal marijuana possession and state-licensed marijuana stores under the I-502 initiative. Their recommendations would essentially gut the existing medical marijuana system, and patients and advocates are crying foul.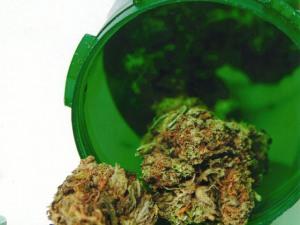 The recommendations from the State Liquor Control Board (which is in charge of implementing the I-502 regime), the Department of Health, and the Department of Revenue would allow state-registered patients to purchase tax-exempt marijuana from the 334 stores envisioned under I-502, but would also reduce the amount patients could possess from 24 ounces to three ounces, require doctors to register patients with the state, remove the affirmative defense for medical marijuana patients, and end the right to petition for new medical conditions to be added.
The recommendations also call for eliminating the right of patients to grow their own, either individually or collectively, require existing dispensaries to comply with I-502 regulations, and force out of business those that can't. That would bring the state's medical marijuana system in line with I-502's no home grow provision.
While I-502 only envisions legalizing marijuana for adults 21 and over, the recommendations would allow 18-to-20-year-olds to use medical marijuana, but patients under the age of 18 would only be allowed to use it with parental consent and could only possess one dose at a time.
The state agencies will make their final recommendations by January 1, when they must send a final report to the state legislature, but in the meantime, they are taking for public comment between now and November 8. They can expect to get an earful from an angry medical marijuana community.
"Washington was one of the first states in the nation to recognize that patients under a physician's care have the right to use medical marijuana," said Steph Sherer, executive director of Americans for Safe Access (ASA). "The needs of this vulnerable population are distinctly different from the wants of recreational users and it's vital that elected officials understand the difference."
ASA, which worked with local activists to create the Health Before Happy Hour campaign to try to ensure that medical marijuana patients don't get run over by the legalization bus, is also holding a series of stakeholder meeting to mobilize the community and protect what it views as its hard-won rights. Those meetings will be held between October 27 and 30 in Bellingham, Olympia, Seattle, Spokane, and Yakima.
ASA created that campaign in part because of ominous portents coming from state officials and other key players. In May, Liquor Control Board spokesman Brian Smith warned that competition from the medical marijuana market will pose "a challenge" to the viability of the state's new recreational program, while state Rep. Chris Hurst (D-Enumclaw), chairman of the House Government Oversight and Accountability Committee, more recently called the medical marijuana industry "a sham," and urged the task force to recommend that all of the state's dispensaries be shut down.
Then, Mitch Barker of the Washington Association of Sheriffs and Police Chiefs chimed in to claim that "the two (laws) are not going to be able to exist side by side for very long." As if that weren't enough, the DEA continues to raid dispensaries, and US Attorneys continue to menace patients and providers. US Attorney Jenny Durkan qualified the state's medical marijuana system as "untenable," and vowed to shut down the dispensaries.
"We are living with HIV/AIDS, end-stage cancers, epilepsy, multiple sclerosis and other serious, often painful and debilitating diseases," said Paul Feldman, who experiences relief with the help of medical marijuana. "It is wholly inappropriate to force us to get our medicine from anything resembling a liquor store and equally unacceptable to make patients pay an excise tax," continued Feldman. "No other medication is taxed this way and cannabis shouldn't be either."
Instead of gutting the medical marijuana program, the Health Before Happy Hour campaign is calling for a system of state-licensed and regulated dispensaries outside the scope of I-502. The campaign is supporting legislation similar to Senate Bill 5073, the proposal previously sponsored by Sen. Jeanne Kohl-Welles (D-Seattle) which was partially vetoed in 2011 by then-Governor Christine Gregoire (D).
[For extensive information about the medical marijuana debate, presented in a neutral format, visit MedicalMarijuana.ProCon.org.]