Two Democratic congressmen announced Tuesday that they are introducing legislation to reform federal marijuana policy. In a joint press conference that also included representatives of drug reform groups, Reps. Earl Blumenauer (D-OR) and Jared Polis (D-CO) announced two separate bills aimed at addressing the looming clash between intransigent federal marijuana policies and states that have or likely will legalize marijuana. And more bills are pending, they said.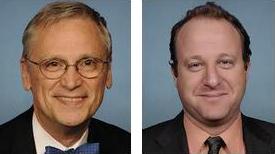 Blumenauer and Polis also released a report entitled "
The Path Forward: Rethinking Federal Marijuana Policy,"
which outlines their perspective on marijuana policy and provides some background on regulation and opportunities for action. The congressmen have also established the Sensible Drug Policy Working Group, which will provide a forum for members of Congress who are working on related issues and hope to advance legislation.
Polis's Ending Federal Marijuana Prohibition Act would remove the DEA's authority over marijuana, end federal marijuana prohibition, and leave it to the states to decide whether to prohibit marijuana or not. Blumenauer's Marijuana Tax Equity Act, House Bill 501, would create a federal excise tax on marijuana similar to those imposed on alcohol and tobacco. Taken together, the two bills would provide for a system of marijuana regulation and taxation in states where it is legal.
More specifically, Polis's bill would:
Remove marijuana from the Controlled Substances Act;
Transfer the Drug Enforcement Administration's authority to regulate marijuana to a newly renamed Bureau of Alcohol, Tobacco, Marijuana and Firearms, which will be tasked with regulating marijuana as it currently does alcohol;
Require marijuana producers to purchase a permit, as commercial alcohol producers do, of which the proceeds would offset the cost of federal oversight; and
Ensure federal law distinguishes between individuals who grow marijuana for personal use and those involved in commercial sale and distribution.
Blumenauer's bill would:
Impose a 50% excise tax on the first sale of marijuana, from the producer to the next stage of production, usually the processor;
Impose an occupational tax similar to those in the tobacco and alcohol industries on those operating in marijuana, with producers, importers and manufacturers facing an occupation tax of $1,000 per year and any other person engaged in the business facing an annual tax of $500 per year;
Impose civil penalties for failure to comply with taxing duties. Criminal penalties will be assessed for intentional efforts to defraud the taxing authorities; and
Require the IRS to produce a study of the industry after two years, and every five years after that, and to issue recommendations to Congress to continue improving the administration of the tax.
The time has come for marijuana law reform at the federal level, the two congressmen said.

"There has been an enormous evolution of American opinion on marijuana. Americans are sick and tired of the costs of marijuana prohibition, whether it's the financial costs or the human costs. Americans are saying enough is enough, let's try a new policy. We need to address drug use as a public health issue, not a criminal justice one," said Polis.

"My bill doesn't affect the legal status of marijuana where it is currently illegal," the Colorado congressman explained, "but it does allow states that have created either a legalized and regulated scheme for sales or that have medical marijuana laws to operate, without the constant fear that the federal government and the DEA and the other agencies will prosecute patients or businesses that are fully legal under state law. This is an idea whose time has come."

"Forty years ago, as a freshman member of the Oregon legislature, I was able to vote to make Oregon the first state to decriminalize the possession of small amounts of marijuana," said Blumenauer. "Since then, 14 states have joined Oregon, and after California legalized medical marijuana in 1996, we now have 19 jurisdictions that have authorized it, and we now have the first two states that have legalized marijuana for recreational use."

The Oregon congressman added that he and Polis are working with a bipartisan group of representatives and that up to eight or 10 marijuana reform bills could be introduced this session.

"We're looking at antiquated and sometimes nonsensical federal laws and policies to try to get us on a path that is less expensive, more productive, more fair, and more in tune with where America is going," Blumenauer said. "We arrested two-thirds of a million people in 2011 for a substance most people think should be legal. The president said he has bigger fish to fry, but there are still people further down the federal food chain frying those fish."

"This is a very exciting day," said Bill Piper, director of national affairs for the Drug Policy Alliance. "Last November, voters in Colorado and Washington made history, and the polling shows that a majority of Americans now support legalizing marijuana. There is no doubt more states will legalize in the years to come. This is the beginning of the end of marijuana prohibition."

"We were a primary backer of Amendment 64 in Colorado, which directed the state to regulate marijuana in a manner similar to alcohol," said Steve Fox, director of government relations for the Marijuana Policy Project. "That's how we believe it should be treated, and we look forward to working with Reps. Polis and Blumenauer to see that this legislation is eventually passed by Congress."

If not this year, then soon, the congressmen said.

"There is growing support for this bill," Polis argued. "There has really been a sea change; we saw test votes in the last Congress for defunding the DEA and other things, and saw very strong support, and that will only increase over time. Congress is frequently a lagging indicator for public opinion; it's a question of Congress catching up."

"This is the beginning, not the end," said Blumenauer. "My bill is a first step and we anticipate some give and take, but this will be gaining momentum. We've got legislation here today to get the ball rolling, but there will be more that you will be hearing about in the days ahead."

"It's clear that we've reached a tipping point," said Piper. "Major changes are going to happen and are happening now. The American people are demanding reform, and members of Congress are starting to give it to them."