This fall's drug policy initiative picture is beginning to clear up, with DC and Oregon seemingly on the way to voting on marijuana legalization in November, the first retailer sales licenses for marijuana in Washington state were issued today, with the signature of Gov. Cuomo, New York becomes the 23rd medical marijuana state, and more. Let's get to it: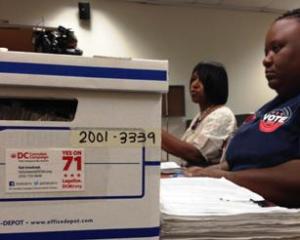 Marijuana Policy
DC Legalization Initiative Backers Turn in More Than Twice the Signatures Needed. Supporters of the DC Cannabis Campaign initiative to legalize the possession and cultivation of small amounts of marijuana turned in more than 58,000 signatures this morning. They only need 25,000 valid voter signatures to qualify for the November ballot. The initiative does not seek to tax and regulate marijuana commerce because DC law precludes that, leaving it up to elected officials. A tax and regulate bill is before the DC city council.
Oregon Legalization Initiative Backers Turn in Close to Twice the Signatures Needed. The New Approach Oregon legalization initiative campaign turned in 145,000 signatures Thursday to put their measure on the November ballot. They only need 87,000 valid voter signatures to qualify, so this is looking very much, but not quite, like a done deal. Stay tuned.
Arkansas Marijuana Initiatives Come Up Short. Neither marijuana legalization nor medical marijuana will be on the ballot this fall. Campaigners for two separate marijuana reform initiatives came up short on signatures for both. Arkansans for Compassionate Care, the folks behind the medical marijuana initiative, say they will be back in 2016.
Washington State Liquor Control Board Issues First Marijuana Retailer Licenses. The first marijuana retail licenses were issued today, with the first retailers expected to be open for business tomorrow as Washington joins Colorado among the legal marijuana commerce states. Click on the link above for a list of the 24 approved licensees.
Massachusetts Poll Has Voters Evenly Split on Support for Legalization. A new Boston Globe poll has support for legalizing marijuana at 48%, with 47% opposed, and 5% undecided. Click on the poll link for more demographic info and top lines.
Denver Cops Raid Marijuana Social Club. Denver Police last week raided Maryjane's Social Club, a private pot-smoking club operating in a grey area under state law. Police handcuffed smokers and charged them with smoking in public, seized drug paraphernalia, and ticketed the club owner for violating the state's no-smoking-inside laws. Club owners argue that since neither marijuana nor food and beverages are sold at the clubs -- patrons bring their own -- they should be permissible.
Medical Marijuana
Governor Signs Compassionate Use Act, Making New York 23rd Medical Marijuana State. In an official signing ceremony today, Gov. Andrew Cuomo (D) signed into law the Compassionate Use Act. New York thus becomes the 23rd medical marijuana state, even though its law is among the most restrictive and includes a ban on smoking (but not vaping or eating) it.
New Synthetic Drugs
Louisiana Bans Two More New Synthetics. The state Department of Health and Hospitals has banned two synthetic drugs, FUB-AMB AMB (methyl (1-(4-fluorobenzyl)-1 H-indazole-3-carbonyl) valinate) and 5-flouro-AMB ((S)- methyl 2- (1- (5- fluoropentyl)- 1H- indazole- 3- carboxamido)- 3- methylbutanoate). The two drugs are marketed as fake marijuana under the names Train Wreck 2 and Kali Berry 2. The ban came last Thursday via an emergency rule.
Drug Testing
Tennessee Welfare Drug Test Law Goes into Effect. As of July 1, people applying for welfare will have to answer three questions on a form about potential drug use. Those who answer any of the questions positively will have to submit to drug testing. Positive test results will result in a postponement of benefits until the applicant has completed a treatment or recovery program and been re-tested. The ACLU of Tennessee says it is considering a legal challenge to the law.
Harm Reduction
Missouri Governor Signs Bill Allowing First Responders to Carry Opiate Overdose Reversal Drug. Gov. Jay Nixon (R) last Thursday signed into law House Bill 2040, which will allow first responders to carry and administer the opiate overdose reversal drug naloxone. The new law goes into effect August 28.
North Carolina Drug Users Have Prevented 100 Fatal Overdoses with Naloxone. Last week, the North Carolina Harm Reduction Coalition reported that the opiate overdose reversal drug naloxone distributed to drug users, their friends, and families has prevented its 100th fatal drug overdose. The distribution is the result of the passage of 911 Good Samaritan/Naloxone Access law in April 2013.
Law Enforcement
Maryland Cops No Longer Have to Report Racial Profiling, SWAT Statistics. Laws requiring state law enforcement agencies to collect and report racial data on traffic stops and to provide the state with information about SWAT deployments have expired. The legislature failed to act to renew them, but some legislators are vowing to make it their first order of business next session. Both laws were passed because of perceived abuses by law enforcement.
International
Colombia's First Needle Exchange Programs are Open. Needle exchange programs in five Colombian cities got underway last week, with health professionals handing out clean syringes to drug users in Armenia, Bogota, Cali, Cucuta, and Medellin. The Health Ministry has allocated 100,000 clean syringes for the program, which will also collect and destroy dirty needles.
Austrian Justice Minister Says No to Marijuana Legalization. Responding to a proposal from the Tyrolean Social Democratic Party (SPO) to legalize marijuana, Austrian Justice Minister Wolgang Brandstetter just says no. "Legalization is not an issue, even in the summer," Brandstetter said. "It's all about prevention, too, in my view, we must reduce the consumption of addictive substances - including soft drugs such as cannabis," he added. Recent polls show only about one-third of Austrians favor legalization.
Caricom Commission to Study Marijuana Reform. The Community of Caribbean Nations (Caricom) last week created a commission to study how the region should respond to demands for medical marijuana, decriminalization, and other marijuana reforms. The commission will report before Caricom's next summit, set for February 2016. An earlier Caricom report found that allowing medical marijuana could boost the regional economy.
Ireland to Allow Medical Marijuana. The CEO of Ireland's Health Products Regulatory Authority (HPRA) said today the Department of Health was drafting legislation to allow medical marijuana to be made available to patients. Pat O'Mahony said that medical marijuana would be available by prescription and sold at pharmacies.