Sen. Rand Paul (R-KY) is blocking three Senate bills that seek to prohibit new synthetic drugs. Rand spokesperson Moira Bagley confirmed to the Lexington Herald-Leader that he has had a "hold" on the bills for the last three months and that he has no intention of lifting it.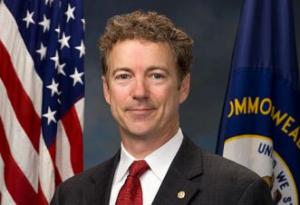 Under Senate "unanimous consent" rules, any senator can place a hold on any bill. A hold doesn't kill a bill, but makes it more difficult for it to pass. A bill with a senatorial hold would require 60 votes to bring it up for consideration over the holding senator's objection.
Paul's main reason for blocking the bills, he told the
Kentucky New Era
, is that federal penalties for drug law violations are "disproportionate" and doesn't allow judges discretion in sentencing. "The main reason we are opposing this is someone could be kept in prison for 20 years," he told the Era.
Another reason Paul blocked the bills is that he believes "enforcement of most drug laws can and should be local and state issues" and that the bans could hinder efforts to be beneficial research on the substances, Bagley told the Herald-Leader. Bagley added that the federal government has the authority to issue "emergency" bans of the synthetic drugs without needing congressional action. (The DEA has in fact enacted separate temporary bans on synthetic cannabinoids and synthetic stimulants.)
The substances in question are synthetic cannabinoids ("fake weed") sold under names such as Spice and K2, as well as synthetic stimulants being sold as "bath salts." The substances have become increasingly widespread since being introduced here in recent years, but so have reports of adverse reactions and emergency room visits linked to them.
The bills in question are
Senate Bill 409
, introduced by inveterate drug warrior Sen. Chuck Schumer (D-NY);
Senate Bill 605
, introduced by inveterate drug warrior Sen. Charles Grassley (R-IA), and
Senate Bill 389
, introduced by Sen. Amy Klobuchar (D-MN).
A similar, but not identical, measure,
House Bill 1254
, passed the House in December. If any of the Senate bills manage to get passed, they would have to be reconciled with the House bill in conference committee.
But prospects for their passage are complicated at best, given the 60-vote firewall, and the fact that the Senate has other pressing business to attend to. That has the bills' sponsors frustrated. Last week, they took the unusual step of taking to the Senate floor to urge Paul to lift his hold.
Schumer said that while he understood the right of a senator to block a bill, Paul shouldn't be able to block a debate. "Let's see if he can win people over to his point of view," he said.
"Let's hear what the objections are, and then pass these bills," said Klobuchar.
But it doesn't look like Paul is budging.