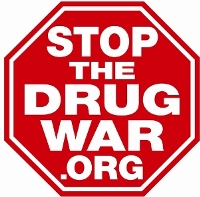 They were growing hibiscus plants.
Legal marijuana sales are coming to California on January 1. Here are some of the highlights from newly released regulations to govern the markets.
The reports of the first marijuana overdose death are unscientific hype, Canada's provinces try varying paths toward dealing with legal marijuana, and more.
Michigan could vote to legalize marijuana next November, Wyoming moves to definitively criminalize marijuana edibles and infusions, the US bombs Taliban heroin production facilities in Afghanistan, and more.
A key Republican senator has authored an appropriations bill that would not bar DC from allowing marijuana sales, long-time MPP head Rob Kampia steps down, Denver bans kratom sales, and more.
Permission to Reprint:
This issue of Drug War Chronicle is licensed under a modified
Creative Commons Attribution license
. Articles of a purely educational nature in Drug War Chronicle appear courtesy of DRCNet Foundation, unless otherwise noted.