The reports of the first marijuana overdose death are unscientific hype, Canada's provinces try varying paths toward dealing with legal marijuana, and more.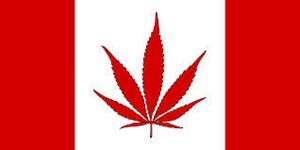 Marijuana Policy
First Marijuana Overdose Death? Not So Fast. A case report about a Colorado infant who died after being exposed to marijuana generated numerous headlines about "the first marijuana overdose death" this week, but those headlines misstated the findings. "We are absolutely not saying that marijuana killed that child," St. Luke's University Director of Medical Toxicology Thomas Nappe, an author of the report, told the Washington Post. Instead, said Nappe, the doctors in the case noted the presence of marijuana in the child's system and warned the medical community that it may be worth studying whether there is a relationship between the presence of marijuana and the child's cause of death, myocarditis.
Medical Marijuana
Michigan Announces New Fees for Medical Marijuana Businesses. The state Department of Licensing and Regulatory Affairs announced Friday that medical marijuana businesses must pay a $6,000 one-time application fee to the state. That's in addition to any municipal fees, which could run as high as $5,000. The fee announcement comes as the state attempts to overhaul its medical marijuana regulations, with "emergency" regulations set to be issued next month.
International
Alberta Will Allow Marijuana Sales in Private Shops and on Government Web Site. The provincial government filed a bill Thursday to deal with looming pot legalization. The bill would allow marijuana to be sold online on a government web site as well as through privately-operated stores. The bill also sets a minimum age of 18 for marijuana consumption. If passed, the proposals would go into effect on July 1, 2018, when marijuana becomes legal in Canada.
Quebec Bill Would Bar Home Marijuana Cultivation, Set Government Sales Monopoly. The provincial government's draft marijuana legislation, filed Thursday, would see marijuana sold only by a series of province-owned pot shops and a government web site. The measure also bars home cultivation and attempts to crack down on marijuana-impaired driving.