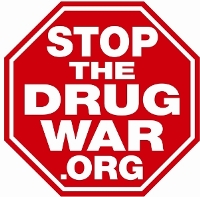 In this new report, the Drug Policy Alliance exposes the cruelty and futility of the increased resort to such charges.
This is our latest advocacy effort opposing the brutal drug war killings taking place under the Duterte administration in the Philippines.
It's not exactly the Islamic Republic of Acid, but still...
The FDA cracks down on claims marijuana cures cancer, Michigan's dispensaries catch a break and Detroit's dispensaries win on Election Day, a South Dakota initiative hands in signatures, and more.
A Hackensack narc bails to avoid problems over illegal searches, a Tennessee cop gets nailed for pain pills, and more prison guards break bad.
It's all marijuana news today, with San Francisco considering allowing smoking at pot shops, an American Legion poll finding very strong support for medical marijuana among veteans, Belize decriminalizing up to 10 grams, and more.
Maine legislature will attempt to override the governor's veto of a marijuana regulation bill, a plan for a safe injection site in Denver advances, a Michigan roadside drug testing pilot program gets underway this we, and more.
The Maine legislature fails to override the governor's veto of the pot regulation bill, a California initiative to legalize magic mushrooms gets the okay for signature gathering, North Dakotans will wait another year for their medical marijuana, and more.
Election day brought good news for marijuana reformers in New Jersey, Detroit, and an Ohio town; Canada's NDP leader calls for drug decriminalization, and more.
The man behind Florida's medical marijuana initiatives is considering a run for governor and now wants to legalize pot, a battle over medical marijuana is looming in Indiana, a new report says the Mexican military is getting away with murder in its US-backed drug war, and more.
The DEA will enact an emergency ban on fentanyl analogs, Maine officials try to tighten up the medical marijuana market, NGOs and individuals target Filipino President Duterte ahead of the ASEAN Summit, and more.
Permission to Reprint:
This issue of Drug War Chronicle is licensed under a modified
Creative Commons Attribution license
. Articles of a purely educational nature in Drug War Chronicle appear courtesy of DRCNet Foundation, unless otherwise noted.