The DEA will enact an emergency ban on fentanyl analogs, Maine officials try to tighten up the medical marijuana market, NGOs and individuals target Filipino President Duterte ahead of the ASEAN Summit, and more.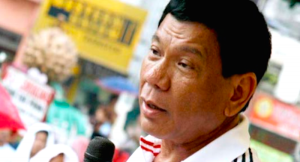 Marijuana Policy
North Dakotans Gear Up for Legalization Initiative Campaign. Coming off a successful medical marijuana initiative campaign last year, state activists are eyeing a full-blown legalization initiative for 2018. The Recreational Marijuana/Expungement initiative campaign is expected to file with the secretary of state's office next week. If approved there, the measure could then move on to the signature gathering phase.
Medical Marijuana
Georgia Poll Has Strong Support for Medical Marijuana. A new Georgia College poll has support for medical marijuana at 77%, up 13 points from the same poll two years ago. Rep. Allan Peake (R-Macon) has been pushing for medical marijuana for several years; this poll should give a boost to his efforts in 2018.
Maine Cracks Down on Medical Marijuana. The state Health Department issued new rules Wednesday that tighten the state's medical marijuana market. Under the new rules, authorities can conduct surprise inspections of grows, and the department is implementing a new patient tracking system. The changes will go into effect on February 1.
Industrial Hemp
Wisconsin Senate Passes Hemp Bill. The Senate has unanimously approved a measure that would legalize the production and cultivation of industrial hemp. The bill would create a system of state licenses for farmers to legally grow hemp. The measure now goes to the Assembly, which is also expected to pass the bill.
Heroin and Prescription Opioids
DEA Will Enact Emergency Ban on Fentanyl Analogs.The Department of Justice Thursday announced that the Drug Enforcement Administration (DEA) intends to take immediate action against the flow of illicit fentanyl analogues into this country and the alarming increase in overdose deaths linked to synthetic opioids by scheduling all fentanyl-related substances on an emergency basis. When the DEA's order takes effect, anyone who possesses, imports, distributes, or manufactures any illicit fentanyl analogue will be subject to criminal prosecution in the same manner as for fentanyl and other controlled substances. The action announced Thursday will make it easier for federal prosecutors and agents to prosecute traffickers of all forms of fentanyl-related substances.
International
On Eve of ASEAN Summit, Hundreds of Groups Call for UN Probe of Philippines Drug War Killings. More than 280 nongovernmental organizations and individuals have renewed calls for a UN-led investigation into the thousands of deaths linked to the Philippines drug war as the country prepares to host the Association of Southeast Asian Nations (ASEAN) summit this weekend. They all signed onto a statement coordinated by Stopthedrugwar.org executive director David Borden and "organized by a coalition including the leading human rights organizations in the Philippines, Filipino-American advocacy groups, drug policy reform, recovery, (and) HIV/AIDS groups," among others. The move came after President Duterte again insisted he would brook no criticism of his human rights record, warning that he would tell US President Trump to "lay off" if he brought up the issue. But Trump has given no indication he has any concerns about human rights abuses in the Philippines.