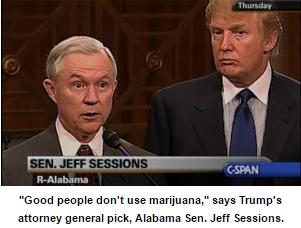 The cops have a nifty little tech toy that can track your phone to within a few feet. Should they need a search warrant first?
Medical marijuana bills are popping up all over the place, a federal bill to protect medical marijuana businesses from asset forfeiture has been filed, and more.
This week, it should be "This Week's Corrupt Jail Guards," since that's all we've got.
Connecticut legislators prepare to take up marijuana legalization, Wisconsin legislators look set to pass a CBD bill this year, Indiana's new governor will ease up on needle exchange restrictions, and more.
Both Congress and state legislatures are getting back to work and the bills are starting to pile up, South Dakota activists eye a 2018 legalization initiative, and more.
Sen. Jeff Sessions is on the hotseat today and Wednesday during his Senate confirmation hearings, Missouri activists gear up for a 2018 legalization initiative, and more.
Marijuana legalization bills get filed in Guam and the District of Columbia, the Global Drug Policy Commission asks Obama to commute more sentences, Chris Christie vows to fight drug addiction during his last year in office, and more.
The National Academy of Sciences releases a report finding marijuana is medicine, Rhode Island legislators aim to get pot legal in a hurry, a new bill in Washington state would allow home cultivation, and more.
Permission to Reprint:
This issue of Drug War Chronicle is licensed under a modified
Creative Commons Attribution license
. Articles of a purely educational nature in Drug War Chronicle appear courtesy of DRCNet Foundation, unless otherwise noted.