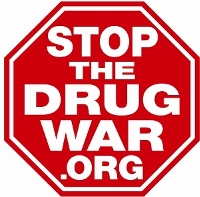 The nation's most populous state is likely to legalize weed in November. Then what?
The Indiana governor's views on drug policy are mostly old-style and hard line.
Some senators take a tiny first step on medical marijuana, a California pot-growing county approves a massive medical marijuana farm, Montanans will have the chance to reinstate their medical marijuana system in November, and more.
The border remains a temptation for Texas cops, a Southern California dispensary was a temptation for a crew of misbehaving cops there, and more.
Governors use their bill-signing pens in Rhode Island and North Carolina, a new poll has surprisingly strong support for marijuana legalization in Wisconsin, Montanans will vote on medical marijuana in November, and more.
A new report finds legal marijuana has been good for Colorado's economy, the White House announces President Obama will sign CARA, and more.
Officials in California's Humboldt County have approved a massive, seven-acre medical marijuana grow operation, Missouri's governor signs a bill allowing pot offenders to get their records expunged, New York's governor announces a crackdown on "synthetic marijuana," and more.
Voters in Arizona can now read arguments for and against the marijuana legalization initiative, legalization opponents don't want to let them have a chance to vote on it, "bath salts" will be banned in Illinois, and more.
A Massachusetts poll has the legalization initiative losing, a New Hampshire poll shows record support for legalization, Florida's first dispensary gets the okay to open, Illinois protects drug court participants' opioid treatment access, and more.
There's a job opening for an experienced marijuana activist in DC, Libertarian Gary Johnson endorses California's legalization initiative, three European countries are making marijuana policy moves, and more.
It's one of those all-weed news days, with Republicans reaching the tipping point on marijuana legalization, Canadian provincial leaders demanding quick action on legalization, and more.
Permission to Reprint:
This issue of Drug War Chronicle is licensed under a modified
Creative Commons Attribution license
. Articles of a purely educational nature in Drug War Chronicle appear courtesy of DRCNet Foundation, unless otherwise noted.