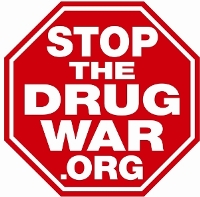 Last year, the US Supreme Court tightened the screws a bit on highway drug dog searches. The courts have reacted in two different ways.
State Trooper Chad Dermyer was doing a drug interdiction training exercise at the Greyhound Bus Station when he stopped the wrong man. Now they're both dead.
An Oklahoma sheriff and his deputy went a bit too far with asset forfeiture efforts, a Louisiana sheriff and his narcs went a bit too far in mistreating prisoners, and more.
The drug czar uses a recycled and updated version of the gateway theory to oppose marijuana legalization, the Justice Department restarts its Equitable Sharing asset forfeiture program, the president announces a new package of initiatives to fight heroin and opioid death and addiction, and more.
The president has commuted sentences for another 61 federal drug offenders, Maine legalizers are fighting to get their signatures validated and their initiative on the ballot, a South Carolina town pays out big for the death of a local teen in a small-time pot bust, and more.
DC activists plan to smoke-out the White House Saturday, Vermont's legalization bill gets a hearing this evening, California's historic Marin Alliance for Medical Marijuana will soon be able to reopen, and more.
Marijuana politics is hopping in New England, decrim goes into effect in Tampa, the DEA gets raked for wasting tens of millions on an anti-drug plane that never flew, Florida's governor signs an asset forfeiture reform bill, and more.
Marijuana legalization activists rallied in Ann Arbor and DC over the weekend, pot-related hearings take place in Connecticut, Rhode Island, and the US Senate tomorrow, the California Assembly will take up supervised injection sites tomorrow, British pot arrests are down dramatically, and more.
Bernie talks pot in Wisconsin, Pittsburgh is a mayor's signature away from pot decriminalization, the DC city council votes to ban social consumption, NYPD narcs are targeting street addicts for felony trafficking busts, and more.
A Vermont House committee has changed the tax and regulate pot legalization bill into a two-plant cultivation decriminalization bill, medical marijuana bills get snuffed in Nebraska and South Carolina, interest in asset forfeiture reform continues, and more.
Permission to Reprint:
This issue of Drug War Chronicle is licensed under a modified
Creative Commons Attribution license
. Articles of a purely educational nature in Drug War Chronicle appear courtesy of DRCNet Foundation, unless otherwise noted.