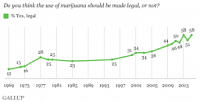 A Liberal victory in Canada's elections Monday means marijuana legalization should be coming soon to the Great White North.
The ResponsibleOhio initiative doesn't have a lot of friends, but it has a lot of money, and it looks like a lot of voter support.
The trend toward support for marijuana legalization continues.
A California federal judge has told the Justice Department to butt out of state-legal marijuana businesses in a case involving the Marin Alliance for Medical Marijuana, the Brookings Institution has a new report on the feds stifling research, ASA has a new report on the beneficial impacts of dispensaries, and more.
It's a twofer of tarnished badges in Baltimore, and an LAX TSA agent was a bit too helpful for his own good.
No pot tourism district for Portland -- at least for now -- New Jersey gets a fifth dispensary, Croatia legalizes medical marijuana, Afghan opium production fell by nearly half last year, and more.
There's a legalization rally in Trenton tomorrow, ASA has a new report on the impact of dispensaries, Mexico cartel violence flares at a Pacific port, Australia okays medical marijuana, and more.
A thousand march for marijuana in Dallas, a few dozen in Montgomery; a UNODC document calling for drug decriminalization gets leaked and then yanked, the Global Commission on Drug Policy issues a report on pain, and more.
Canada's Liberals have vowed to legalize marijuana, and now they've just won the election; the Ohio legalization initiative looks like it will be a squeaker, a federal judge rules in favor of marijuana businesses in legal states, and more.
The trend toward supporting marijuana legalization is becoming ever more apparent, asset forfeiture reforms become law in Michigan, but get attacked by law enforcement in Tennessee, harm reductionists call on the UN to officially release a drug decriminalization document, and more.
It's nail-biting time for pot legalizers in Ohio -- and in California--the Obama administration rolls out new measures to deal with heroin and prescription opiates, a federal sentencing reform bill advances, and more.
Permission to Reprint:
This issue of Drug War Chronicle is licensed under a modified
Creative Commons Attribution license
. Articles of a purely educational nature in Drug War Chronicle appear courtesy of DRCNet Foundation, unless otherwise noted.