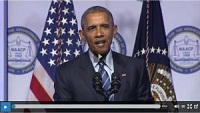 Last year, the Justice Department encouraged federal drug prisoners to apply for clemency and commutations. More than 30,000 have, and now they are starting to trickle out of prison.
The president is calling for the reduction or elimination of mandatory minimum sentences, the removal of barriers to reentry, and more.
Medical marijuana continues to be an issue in Congress, medical marijuana programs in Illinois and New York move ahead, a federal appeals court decision hits dispensaries in the pocketbook, and more.
The beat goes on. Cops stealing weed in Texas, heroin in DC, and big sums of cash in Virginia, jail guards dealing smack, and more.
A bill to allow marijuana businesses access to banking services has been filed in Congress, Oregon's largest airport okays flying with marijuana (in-state only), Indiana's Church of Cannabis is suing the state, the Pope drinks coca tea on his way to Bolivia, and more.
Nearly half the country thinks roads will be less safe with pot legalization, researchers debunk the gateway theory... again, applicants pile up for medical marijuana programs in Florida and New York, Connecticut's governor signs a bill doing away with mandatory minimums for drug possession, and more.
More marijuana reform initiatives get filed, Wisconsin's governor modifies a food stamp drug test bill to make it mandatory and suspicionless, the world's wealthiest drug lord breaks out of prison, and more.
A novel legal tactic by marijuana foes rears its ugly head, last minute maneuvering scuttled social clubs in Washington state, Bernie Sanders wants cheaper Naloxone prices, Illinois' first medical marijuana grow gets underway, and more.
The president gives a major speech calling for greater criminal justice reform, there's a revised version of a California pot legalization initiative, North Carolina is moving to ban new synthetic drugs, the Israeli Knesset squabbles over marijuana policy, and more.
Permission to Reprint:
This issue of Drug War Chronicle is licensed under a modified
Creative Commons Attribution license
. Articles of a purely educational nature in Drug War Chronicle appear courtesy of DRCNet Foundation, unless otherwise noted.