A bill to allow marijuana businesses access to banking services has been filed in Congress, Oregon's largest airport okays flying with pot (in-state only), Indiana's Church of Cannabis is suing the state, the Pope drinks coca tea on his way to Bolivia, and more.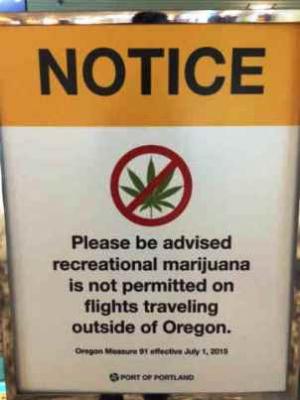 Marijuana Policy
Federal Marijuana Banking Legislation Filed. Today, Senators Jeff Merkley (D-OR), Cory Gardner (R-CO), Michael Bennett (D-CO), Rand Paul (R-KY), and Ron Wyden (D-OR) introduced the Marijuana Business Access to Banking Act, a bill that would allow banks to provide depository and other financial services to state-legal marijuana businesses. Currently, because marijuana is illegal under federal law, both medical and non-medical marijuana businesses are unable to access banking services like any other business. Consequently, many marijuana businesses operate on a cash-only basis, leading to huge public safety issues as businesses become the target of robberies, and are forced to hire armed security to protect their takings.
Indiana Marijuana Church Sues State to Block Enforcement of Marijuana Laws. The Indianapolis-based First Church of Cannabis is going to federal court to try to stop the state from enforcing marijuana prohibition against church members. The church argues that doing so prevents members from fully exercising their religion. Their attorney says he will rely on the Religious Freedom Restoration Act to make his case.
Flying With Marijuana Now Okay at PDX. Now that pot is legal in Oregon, Portland International Airport (PDX) has announced that passengers can travel with their marijuana -- as long as they don't leave the state. The airport said that if TSA agents find marijuana on travelers, they will notify Port Police, who will then check to see if the amount is less than the legal limit, the passenger is old enough to carry it, and that the boarding pass shows the passenger is on an in-state flight. If those conditions are met, passengers can fly with their weed. Passengers caught trying to fly out of state with legal amounts of weed will be asked to leave the line and get rid of it before boarding.
Poll: 56% Support for Denver Marijuana Social Use Initiative. A Public Policy Polling survey released today has a solid majority supporting an initiative to allow the use -- but not the sale -- of marijuana at businesses restricted to those 21 and over. The initiative specifies that businesses with liquor licenses would have the option of allowing marijuana use on premises. The Campaign for Limited Social Use needs to collect 4,726 signatures by early August to qualify for the November 2015 ballot.
Medical Marijuana
House Republicans Block Bid for More Medical Marijuana Studies. Republicans in the House Wednesday night killed an amendment to an appropriations bill that would have reclassified marijuana so laboratories could conduct "credible research on its safety and efficacy as a medical treatment." The amendment would have encouraged the DEA and the National Institutes of Health to work together to allow studies of the risks and benefits of using marijuana to treat various diseases and conditions. The amendment, sponsored by Reps. Earl Blumenauer (D-OR) and Sam Farr (D-CA), as well as marijuana legalization foe Rep. Andy Harris (R-MD), would have created a new designation in the federal drug scheduling scheme, Schedule 1R, for research.
International
Pope Francis Drinks Coca Tea On Flight to Bolivia. The Pope sipped on a brew of coca, chamomile, and anise seeds as he flew from Ecuador to the high-altitude airport at La Paz, Bolivia. The drink, made from leaves of the coca plant, is commonly used by travelers to fight altitude sickness. The airport at La Paz is at nearly 14,000 feet.
Canadian Electronic Music Festival Back On, Will Do Pill Testing. The Evolve Festival will go on as scheduled in Nova Scotia beginning tonight and will still offer the harm reduction measure of offering pill testing for attendees. Festival organizers announced earlier this week they would offer pill testing, but their insurer then canceled their liability insurance, leaving the event in doubt. But now, a new insurer has been found, and organizers say they will do pill testing.