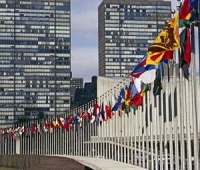 It has been a historic day for drug policy at the United Nations -- and a big week in our own campaign to shift global drug policy too.
No, it's neither California nor Nevada, and not one of the New England states. This is a Middle American battleground state, and it may be ready to go green.
The US island territory now joins Guam, 23 states, and Washington, DC, as US entities where medical marijuana is legal.
CBD cannabis oil bills become law in Georgia, Oklahoma, and Tennessee, a similar bill is moving in Texas, Hawaii moves closer to allowing dispensaries, and more.
A ring of crooked North Carolina deputies gets popped, so do some Connecticut cops involved in a steroids rings, and so do more jail and prison guards. And more. So it goes.
Seventeen congressmembers introduced a federal marijuana banking bill, CBD cannabis oil gets approved in Oklahoma, medical marijuana advances in Louisiana, Indiana approves needle exchange programs, and more.
The House rejects medical marijuana for vets, Georgia's governor signs a CBD cannabis oil bill, Congressmembers call for a progressive DEA head, the US spent $8.4 billion to wipe out Afghan poppy crops and got squat, there's a new report on prohibition-related violence in Mexico, and more.
The Supreme Court wants to know what the Obama administration thinks about that lawsuit over Colorado's marijuana law, a Hawaii dispensary bill is back from the dead and being considered today, a Nevada harm reduction bill advances, a federal drug defelonization bill is introduced, and more.
Mexico drug war flares, Colombia coca production jumps, a Texas decrim bill is moving, so is a Hawaii dispensary bill and a Louisiana medical marijuana bill. And more.
Lots of marijuana policy at the statehouse today, a Texas CBD cannabis oil bill moves, Montana's governor signs asset forfeiture reform into law, Vermont heads in the opposite direction on asset forfeiture, and more.
Permission to Reprint:
This issue of Drug War Chronicle is licensed under a modified
Creative Commons Attribution license
. Articles of a purely educational nature in Drug War Chronicle appear courtesy of DRCNet Foundation, unless otherwise noted.