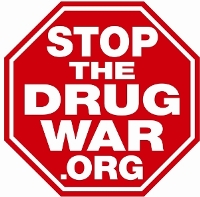 An Oregon meth fugitive shot and killed after a SWAT standoff becomes the 21st person to die in US domestic drug law enforcement operations this year.
A California game warden shot and killed a suspected marijuana grower during a raid early this morning at a federal wildlife refuge near Elk Grove. The as-yet-unidentified man becomes the 22nd person to die in US domestic drug law enforcement operations so far this year.
Bills to fold medical marijuana into the legal marijuana system advance in Oregon and become law in Washington, Florida gears up for another initiative campaign after the legislature fails to act, the Oklahoma legislature passes a CBD cannabis oil bill, and more.
More jail guards get greedy, an Oklahoma deputy self-medicates with meth from the evidence room, and a San Jose cop gets popped with a storage locker of pot.
The legalization initiatives are piling up in California, and we're still waiting for the big one; Rick Perry talks states' rights on pot, an Alabama medical marijuana bill is actually moving, so is a California asset forfeiture reform bill, and more.
Decrim advances in Illinois, an Ohio legalization initiative is rolling along, asset forfeiture reform passes in Montana and is now under consideration in Michigan, Vancouver will regulate its dispensaries, and more.
A national poll and two state polls have majorities for marijuana legalization, a South Dakota initiative would treat alcohol and tobacco like marijuana, Indonesia appears set to execute three foreign drug offenders, and more.
A Maine legalization initiative is moving, an Iowa medical marijuana bill is not, Indiana prosecutors oppose needle exchanges, Indonesia ignores world opinion to execute eight drug smugglers, and more.
Hillary Clinton calls for drug and sentencing reforms, the Florida 2016 medical marijuana initiative campaign gears up, Jamaica sees its first legal pot plant, Indonesia stands firm in the face of international criticism over drug executions, and more.
Phone in next month to a "Telephone TownHall Meeting" on drug education with Dr. Carl Hart and the Drug Policy Alliance.
Organizations concerned with drugs and drug policy are requested to fill out the Global Civil Society Task Force, looking toward the April 2016 UN General Assembly Session on Drugs
Scholarship assistance is available for individuals wishing to attend this year's International Drug Policy Reform Conference, taking place from November 18-21 in the DC metro area. May 22 is the deadline to apply.
Permission to Reprint:
This issue of Drug War Chronicle is licensed under a modified
Creative Commons Attribution license
. Articles of a purely educational nature in Drug War Chronicle appear courtesy of DRCNet Foundation, unless otherwise noted.