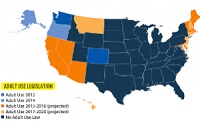 Four states and DC have already legalized. Here's the next batch.
The home of Rastafari and Bob Marley is finally going to decriminalize marijuana possession.
Medical marijuana is seeing lots of action at state houses around the country, and the American Academy of Pediatrics has a new policy statement supporting medical marijuana.
NYPD narcs gone bad, a Utah drug task force agent gets busted, and a Colorado cop heads to federal prison.
There's medical marijuana action in the states, the Supreme Court hears a case about drug dogs, Jamaica is about to decriminalize ganja, an asset forfeiture reform bill is moving in Virginia, and more.
Marijuana-related activity is ratcheting up at statehouses across the land, Massachusetts' governor rejects legalization, and the CDC issues a warning on opiate pain reliever use among women of childbearing age.
Some pleasantly surprising poll results from Michigan, medical marijuana bills are popping up all over the place, the Baby Bou Bou SWAT raid is sparking bills to rein in over-the-top drug raiders, and more.
A marijuana business groups predicts 18 states will legalize by 2020, medical marijuana bills get filed in Florida and Pennsylvania, the DEA is tracking your license plates, federal asset forfeiture reform and hemp bills are filed, and more.
The House Speaker doesn't appear too interested in undoing legalization in DC, Nebraska's AG explains his lawsuit against Colorado legalization, good poll results from Virginia, more pressure for federal asset forfeiture reform, and more.
Permission to Reprint:
This issue of Drug War Chronicle is licensed under a modified
Creative Commons Attribution license
. Articles of a purely educational nature in Drug War Chronicle appear courtesy of DRCNet Foundation, unless otherwise noted.