A marijuana business group predicts 18 states will legalize by 2020, medical marijuana bills get filed in Florida and Pennsylvania, the DEA is tracking your license plates, federal asset forfeiture reform and hemp bills are filed, and more. Let's get to it: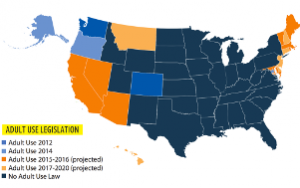 Marijuana Policy
ArcView Group Predicts 18 States Will Legalize By 2020. ArcView Market Research, a firm that pairs investors with marijuana-related businesses, is predicting that 18 states will have legalized marijuana by the end of 2020. Those states are: Arizona, California, Massachusetts, Maine, Nevada, Rhode Island, and Vermont by 2016; Connecticut, Delaware, Maryland, Montana, New Hampshire, and New Jersey by 2020. Alaska, Colorado, Oregon, and Washington have already legalized it, as has the District of Columbia.
Southern California Legalization Meetings Planned. The California Coalition for Cannabis Policy Reform, which is working to create a unified movement behind a legalization initiative in 2016, will be holding a series of meetings in Southern California this weekend. There will be events in West Hollywood, Riverside, San Diego, and Santa Ana. They want people to RSVP. Click on the link for meeting details.
Medical Marijuana
Full-Blown Medical Marijuana Bill Filed in Florida. State Sen. Jeff Brandes (R-St. Petersburg) has filed Senate Bill 258, which would regulate the cultivation, distribution, and use of medical marijuana in the state. The proposal larger mirrors that failed constitutional amendment that won 57% of the vote last year (it needed 60% to pass because it was a constitutional amendment). The state passed a medical marijuana bill last year, but it was limited to high-CBD cannabis oils. Brandes is chair of the Senate Transportation Committee and sits on the Criminal Justice Committee, too.
Medical Marijuana Bill Reintroduced in Pennsylvania. State Sens. Daylin Leach (D-Montgomery) and Mike Folmer (R-Dauphin) have reintroduced a medical marijuana that died late in the last session. The new bill, Senate Bill 3, is almost identical to last year's Senate Bill 1182. It has a bipartisan batch of cosponsors -- 11 Republicans and 14 Democrats.
Iowa Medical Cannabis Oil Registrations Now Open. The Department of Health has completed establishing a process to approve and generate medical cannabis oil registration cards. The legislature passed a bill last year allowing for such use. The relevant Health Department web page is here.
Hemp
Federal Hemp Bill Filed. Rep. Thomas Massie (R-KY) has filed HR 525, which would amend the Controlled Substances Act to exclude industrial hemp from the definition of marijuana. The bill has 47 cosponsors -- 31 Democrats and 16 Republicans. It's been assigned to the House Judiciary and House Energy and Commerce committees.
Asset Forfeiture
Federal Civil Asset Forfeiture Reform Bill Filed. Sen. Rand Paul (R-KY) has reintroduced the Fifth Amendment Integrity Restoration (FAIR) Act, SB 255. The measure would end the federal government's Equitable Sharing program for civil asset forfeiture. An identical measure has been introduced in the House. The bills are headed for each house's respective judiciary committees.
Law Enforcement
DEA is Spying on Millions of Vehicles. A license plate tracking program run by the DEA is building a national database that tracks the movement of vehicles around the US. The secret domestic intelligence-gathering program has scanned and stored hundreds of millions of records about motorists, all without a warrant. The DEA's uses of license plate readers on a massive scale "raises significant privacy concerns," said Sen. Patrick Leahy, senior Democrat on the Senate Judiciary Committee. "The fact that this intrusive technology is potentially being used to expand the reach of the government's asset-forfeiture efforts is of even greater concern." There's much more at the link.