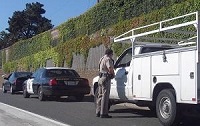 Attorney General Eric Holder has taken the biggest step to reform civil asset forfeiture programs in years.
California localities continue to deal with medical marijuana, bills are showing up in the states, the Kettle Falls Five want their prosecutions ended, and more.
The year's first drug war death occurred Wednesday in Draper, Utah, during a scuffle as cops tried to arrest a man they suspected of using drugs.
A veteran cop gets caught with his hands in the cookie jar, jail guards go wild, and two different ex-cops go to prison for growing marijuana.
Oregon pot regulators are going on a listening tour, Oregon pot consumers are getting organized, a Minnesota Indian reservation ponders producing medical marijuana, UMass ends its student snitch program, and more.
Attorney General Holder announces a major civil asset forfeiture reform move, the NCAA will review its drug policies, a Vermont report on the impact of pot legalization has been released, and more.
New York has a marijuana legalization bill, New Hampshire ponders a study of legalization, Rhode Island patients get a vapor lounge, the DEA has another means of surveilling Americans, Indonesia's resort to the death penalty for drugs stirs controversy, and more.
State legislative sessions are getting underway, and drug policy-related bills are popping up all over. There's good, bad, and ugly.
The DEA will pay for using a woman's identity (and photos) to make a fake Facebook page, a Wyoming decrim bill is moving, Virginia is seeing CBD and medical marijuana bills, there's a hemp bill in Florida, the Vera Institute releases a report on New York sentencing reforms, and more.
Permission to Reprint:
This issue of Drug War Chronicle is licensed under a modified
Creative Commons Attribution license
. Articles of a purely educational nature in Drug War Chronicle appear courtesy of DRCNet Foundation, unless otherwise noted.