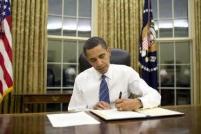 Passage of the omnibus spending bill was good news and bad news for marijuana reform advocates. A big win for medical marijuana, but a nasty move to block voter-approved legalization in DC, too.
The president has commuted the sentences of eight drug offenders and issued pardons for four more who have already done their time.
Despite the confusion, leading Democrats involved in negotiations over DC marijuana reforms in the "CRomnibus" budget bill say that Initiative 71 still lives.
Big news out of Washington and, for a change, most of our medical marijuana news is out of the Midwest this week.
An Indianapolis man being pursued by the DEA and local cops crashed his vehicle, then killed himself. That's the year's 38th drug war death.
The beat goes on. A Texas drug dog officer snorts the training dope, a pair of married Indiana deputies get wrapped up in the new synthetics, and a Georgia judge goes down for trying to set up a woman who accused him of making advances on her.
There are conflicting views on the fate of DC's legalization initiative, the Justice Department okays marijuana growing on Indian reservations, Spaniards now support marijuana legalization, and more.
The president weighs in on congressional moves to block DC marijuana legalization, Oklahoma could be joining the cannabis oil medical marijuana club, a Wisconsin woman sues over the "cocaine moms" law, the ACLU is looking to sue a Connecticut housing agency over mandatory drug tests, and more.
Texas begins heading down the path of marijuana reform, a Missouri legalization initiative seeks to really free the weed, Rep. Andy Harris isn't very welcome in DC these days, Kentucky tries to deal with heroin again this year, and more.
The Monitoring the Future teen drug use survey is out, the "cromnibus" bill also killed highway drug use surveys, Rep. Steve Cohen (D-TN) wants better information on police killings, a damning report is released in Mexico, and more.
It's the 100th anniversary of the Harrison Narcotics Tax Act, a GOP senator chides Obama for "pro-marijuana" messages, human rights groups urge the UNODC to quit funding Iranian drug enforcement because of its resort to the death penalty, and more.
Permission to Reprint:
This issue of Drug War Chronicle is licensed under a modified
Creative Commons Attribution license
. Articles of a purely educational nature in Drug War Chronicle appear courtesy of DRCNet Foundation, unless otherwise noted.