Despite the language Republicans managed to include in the "CRomnibus" federal spending bill interfering with the District of Columbia's right to set its own marijuana policies, several leading Democrats say that the Initiative 71 marijuana possession and cultivation legalization initiative is still alive.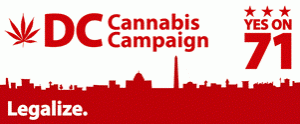 A close reading of the relevant language in the bill shows that while it would block the District council from enacting a pending bill to tax and regulate marijuana, it would not undo DC's decriminalization law that is already on the books. The language around Initiative 71 is less clear, but Democrats involved with the negotiations say it is clear that the legislative intent of the rider in question was to allow both decriminalization and Initiative 71 to stand.
House Minority Leader Nancy Pelosi; Rep. Eleanor Holmes Horton, the Congressional Delegate from DC.; Rep. Jose Serrano (D-NY), the ranking member on the House appropriations subcommittee that funds DC; Rep. Nita Lowey (D-NY), the ranking Democrat on the House Appropriations Committee; and others have said that the DC rider allows Initiative 71 to stand. The DC government is blocked from enacting any new marijuana law reforms but it is free to implement and carry out reforms that have already been enacted.
"Initiative 71 was enacted on November 4th when 70% of DC voters approved it, said Bill Piper, director of national affairs for the Drug Policy Alliance. "Voters wanted to reduce racial disparities in the criminal justice system and focus police resources on serious and violent crime. The will of the people should stand. While Initiative 71 won't take effect until after the Council transmits it to Congress in January and it goes through an administrative 30-day review period, it has very clearly already been enacted by the voters."
The Drug Policy Alliance is urging the DC city council to transmit Initiative 71 to Congress as soon as it convenes in January.